I have just gone through my worst cooking experience EVER. I may need therapy.
I had a Mother's Day get together on Saturday at my apartment, my mom, mother in law, aunt and cousin were coming over.  A few weeks ago I decided I wanted to make some cupcakes (big surprise, right?), but not just any cupcake, I wanted rose flavored cupcakes.
So, we went window shopping for cooking stuff with my friend Edith a couple of weeks ago, and saw that Wilton was giving a cupcake decorating course this week, which could not have come at a better time! I was going to learn some techniques to use on my wonderful rose flavored cupcakes to impress my beloved family.  Much to my dismay, the course featured techniques on decorating cupcakes to look like PIGS and LADYBUGS.  Sigh… I had already paid for the thing and we were already there, so we went through with it.  However, I did learn that to make a rose swirl, you need a 1M piping tip.  That I could use!!!
Cupcake making day arrived. I woke up a little earlier than usual to start baking, that way I would have my cupcakes ready on Friday morning, and I could take my sweet time to make the frosting and decorate. I juggled the baking with making breakfast, and feeding Kristen, the oven timer was about to go off… The cupcakes were almost ready!. I was going through the recipe to check if the frosting yield was enough for 30 cupcakes, and I realized… I DIDN'T PUT THE BUTTER IN THE BATTER! The cupcakes looked alright, but tasted like sugared, baked scrambled eggs.  To the trash they went, I would not have fed these to my dog.
Without saying a word or thinking about it too much, I washed and cleaned everything up to erase all evidence of this fiasco. I would bake them again later.
We had the Foodies' site launch scheduled for that afternoon,  Kitty came over so we could work on the last details and to help me out in the kitchen.  Edith also came over, she brought me some organic miniature pansies we had ordered to decorate. This would be the extra special touch for my cupcakes.
I started to make the frosting… a meringue buttercream.  The sugar syrup crystallized the first time. I did it again, this time it came out fine. I added it to my beaten egg whites, and then added the butter… the "frosting" looked like pancake batter.  Failure once again.
We did some research, and found that I had to use firm cold butter… not softened butter, which was not indicated in the recipe. I figured I would just put it in the fridge for it to be firm and would beat it again to make it smooth.
Meanwhile, I made the cupcakes again. This time I didn't forget to add the butter.
The recipe called for not self-rising cake flour and for unbleached all purpose flour. I went ahead and used all purpose flour, because that's what I had, and instead of vanilla I used rose water. What could go wrong? I'll tell you: I filled the muffin cups to 2/3, and popped them in the oven. The damn things overfilled the mold; they looked like flat, big mushrooms. The consistency was Ok, a little chewy on top, but I was going to cut that off anyway, and the taste was less than good. The frosting was my only hope.
Next morning, the day of the gathering, I decided to fill the cupcakes with some chocolate pudding I had made, to improve the flavor. Then I took the frosting out of the fridge, to beat it to submission. It curdled into what looked like scrambled eggs. This was too much for me to deal with.
So, here's a picture of the cake I ordered from a bakery. Nice, huh? Happy Mother's Day.
Helga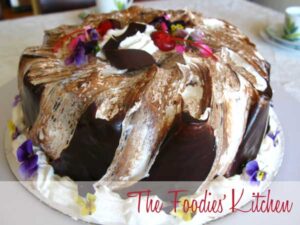 SaveSave
© 2010 – 2017, The Foodies' Kitchen. All rights reserved | The Foodies' Kitchen.