All About Chocolate
We leave you here with some research about Chocolate… Did you know you can pair Chocolate and Wine? Read more about it!
Kitty & Helga
Where Chocolate Comes From
Chocolate starts out in the tropics, where the cacao tree grows. It is the result of a long, delicate process that begins with the cacao tree and ends with a perfectly molded piece of sheer delight. It has amazing complexities and levels of flavor. You'll find unique attributes for each chocolate you taste, from flavor notes to texture to finish, as though each one had a distinctive personality.
Like fine wine, many things affect the final product: the blend of cacao beans, the percentage of cacao, the region where the beans were grown, as well as the timing and manner of the roasting and drying processes. Chocolate connoisseurs hold tasting sessions that let them explore all the delicious details of their favorite food.
Tasting Chocolate
Following is a list of terms commonly used in making and categorizing chocolate. Understanding these is the first step towards a solid chocolate education.
Cacao – used by the The U.S. Food and Drug Administration (FDA) to refer to the bean, which is the source of the cacao components such as chocolate liquor, cocoa butter, and cocoa powder.
Chocolate liquor – produced by grinding the cacao bean nib to a smooth, liquid state. In the U.S., chocolate liquor can also be called chocolate, unsweetened chocolate, baking chocolate, or bitter chocolate. In Canada and Europe, other names include cocoa (cacao) mass and cocoa liquor. (Despite its name there is no alcohol present)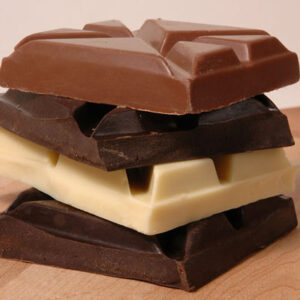 Cocoa butter – the fat naturally present in cacao beans. The amount of cocoa butter in cacao beans typically ranges from 50 to 60%, with the balance being non-fat cocoa solids.
Cocoa or cocoa powder – the product made by removing part of the fat (i.e., cocoa butter) from the cocoa bean and grinding the remaining material to a powder.
Kinds of Chocolate
The ingredients listed above are combined in varying degrees (along with sugar and/or milk) to make different kinds of chocolate such as milk, bittersweet, semisweet or baking chocolate. You've may have seen or tasted all of them, and never really known what those names actually meant. Here are the chocolates' official definitions according to the FDA.
Milk Chocolate A combination of chocolate liquor, cocoa butter, sugar and milk or cream. Milk chocolate must contain at least 10% chocolate liquor and at least 12% total milk ingredients.
Sweet Chocolate A combination of chocolate liquor, cocoa butter and sugar, but contains at least 15% chocolate liquor.
Semisweet or Bittersweet Chocolate A combination of chocolate liquor, cocoa butter and sugar, but contains at least 35% chocolate liquor. Bittersweet chocolate and semisweet chocolate are often called dark chocolate.
Unsweetened Chocolate Or Baking Chocolate Straight chocolate liquor formed into a bar with no added sugar is known as unsweetened chocolate or baking chocolate.
White Chocolate Made from the same ingredients as milk chocolate (cocoa butter, milk, sugar) but without the nonfat cocoa solids. In 2002, FDA established a standard of identity for white chocolate. White chocolate must contain at least 20% cocoa butter and 14% total milk ingredients.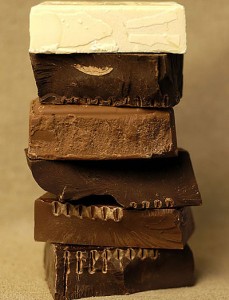 Percentage of Cacao
The percentage refers to the total content of ingredients derived from the cacao (or cocoa) bean.
Percentage Cacao = chocolate liquor + cocoa butter + cocoa powder.
Generally, there is an inverse relationship between the % Cacao and the amount of sugar in a bar.
For example, a 60% Cacao dark chocolate bar has more sugar (and is sweeter) than a 72% Cacao dark chocolate bar. Unsweetened baking chocolate is a 100% cacao product which has no added sugar, and will have a very bitter flavor.
Also, since higher % Cacao means more cacao bean solids, you'll experience a more intense chocolate flavor.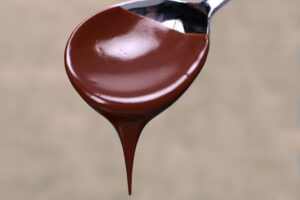 Wine & Chocolate: What to pair
Wine and chocolate paired together? They're natural companions. Both have complex flavors and notes, both have similar components and nuances in common. A wine and chocolate pairing follows the same kind of process as a wine or chocolate tasting, except you taste both together.
Pair lighter chocolates with lighter wines; darker chocolates with full-bodied wines.
Pairings for Dark, Bittersweet and Semisweet chocolate:
Zinfandel
Syrah
Tawny Port
Armagnac
Cognac
If you're looking to pair up Cabernet Sauvignon, Pinot Noir, or Sangiovese reds, they need to be well-aged to suitably pair with darker chocolates.
Pairings for Milk Chocolate:
Merlot
Riesling
Sauvignon Blanc
Dessert wines
More Pairings
Pairing chocolate with fruit is a natural. Some experts prefer chocolate and beer combinations to chocolate and wine. In Europe, bread and chocolate are common companions. Chocolate and coffee are meant to be together, while chocolate and tea are an unlikely match that some experts swear by.
Jacques Torres (Mr. Chocolate)
Jacques Torres grew up in Bandol, France, a small town in the southern region of Provence.
In 1980 on a bet with a friend, he approached the Michelin two-star chef Jacques Maximin at the Hotel Negresco and innocently inquired for a job. Maximin gave him an hour to return to work with a chef's coat and start a relationship that would last 8 years and take him around the globe. At the Hotel Negresco, he refined his skills and nurtured his intuitive sense of confectionery artistry.
From 1980-1983, he went back to school on his days off to earn the degree of Master Pastry Chef. He taught pastry at a local culinary school in Cannes from 1983-1986. During these years, he was also honing his skill in preparation for the infamous Meilleur Ouvrier de France competition. In 1986, Jacques was awarded with the prestigious M.O.F. medal, the youngest chef to earn the distinction.
The list of Jacques' culinary awards and achievements during that time included consulting and product development for Cointreau and Valrhona; participation in the rededication ceremonies for the Statue of Liberty honoring French President, Francois Mitterand and United States President, Ronald Reagan; Le Figaro's Culinary Cruise through the countries of the Mediterranean; receipt of the gold medal of the Japanese Pastry Chef Association; winner of the 1986 French Championship of Desserts; culinary weeks in Tokyo, Sydney, Melbourne, and Spain; as well as participation in numerous competitions and culinary events in France. In 1988, the Ritz Carlton Hotel Company petitioned Jacques to the United States as Corporate Pastry Chef. He launched the opening of their hotel in Palm Springs and, later that year, transferred to the corporate headquarters in Atlanta.
In 1989, the legendary Sirio Maccioni invited Jacques to work at New York's most famous restaurant, Le Cirque.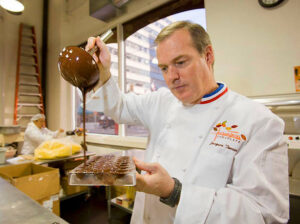 Jacques continues to appear in newspapers, magazines and trade press. He frequently makes television guest appearances on NBC's Today Show and Later Today, various shows on TV Food Network, and public television programs. His list of achievements include participation in "Merci Julia" – the world's top culinary professionals salute Julia Child; Julia Child's Master Chefs television series; James Beard Pastry Chef of the Year; Pierre Franey's Birthday Celebrations; Chef's of America Pastry Chef of the Year; Chocolatier Magazine's 10 Best Pastry Chefs; The Masters of Food & Wine; Chartreuse Pastry Chef Award; member of Academie Culinaire de France; and Cunard's Culinary Crossing on the QE2.
© 2010 – 2013, The Foodies' Kitchen. All rights reserved.