World Cup Nutella Swirl Vanilla Cupcakes
World Cup fever is among us!  Try these cupcakes, this recipe makes a light and fluffy cupcake, and we'll take you step by step on the two tone decorations so you can make your own with the colors of your favorite team. In this post you will find the recipe to make the cupcakes, the recipe and tips to make the frosting, and the two tone technique.
Helga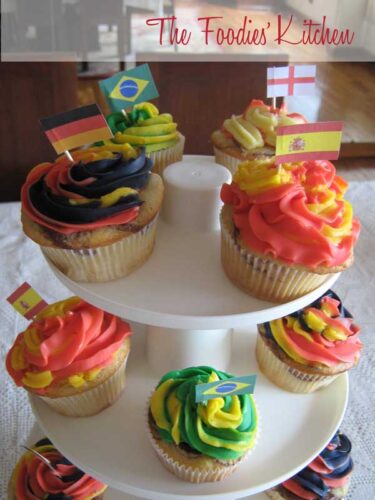 Nutella Swirl Vanilla Cupcakes
Yield: 24 cupcakes

Ingredients:
12 tablespoons unsalted butter, room temperature
1¾ cups sugar
2 large eggs
2 teaspoons vanilla extract
½ teaspoon salt
2½ teaspoons baking powder
2½ cups all-purpose flour
1¼ cups milk
½ cup Nutella
Procedure:
To prepare oven, muffin tin: Preheat over to 375 degrees. Adjust oven rack to middle position. Line standard muffin tin with paper liners.
To make cupcakes: In large bowl, cream together butter and sugar. Beat in eggs, vanilla, salt and baking powder. Add flour in 3 batches, alternating with milk. Beat at low speed for 30 seconds or until mixture is smooth and satiny.
To bake cupcakes: Divide batter evenly among cups. Fill the cups up to half in each cup, otherwise they may overflow when baking.   Place 1 tablespoon of Nutella on top, and swirl it around with a toothpick.
Bake for 18 to 20 minutes or until tops are pale gold and toothpick or skewer inserted into center comes out clean.
Cool on wire rack for 45 minutes or until at room temperature.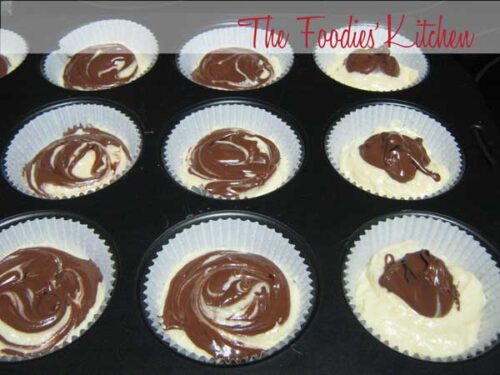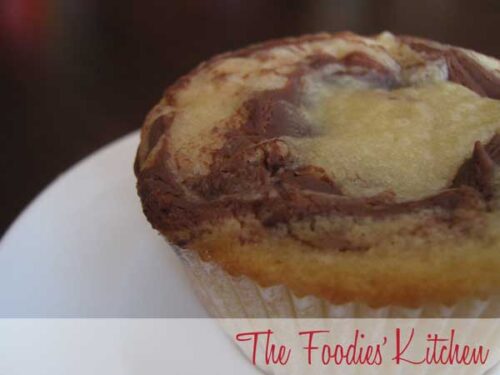 Italian Meringue Buttercream
Makes enough to frost 12 cupcakes (heavily frosted)
Don't be alarmed by the long instructions. This is actually not hard to make if you do things right, so we are detailing every little thing to make sure you are successful at making your buttercream.
This is a basic frosting for cupcakes and cakes. It makes a very smooth and creamy topping, What you do is pour a sugar syrup into whipped egg whites, making a very thick meringue and then you beat butter into it. As a variation, we added 1 teaspoon almond flavor and 1 teaspoon Frangelico liquor. You can put in any flavoring, like vanilla, or rum. But don't put in more than 2 teaspoons! Otherwise you will ruin the buttercream. (It will curdle and separate).
Ingredients:
5 egg whites
8 oz (1 cup) granulated sugar
2 oz (1/4 cup) granulated sugar
¼ cup water
16 oz unsalted butter, room temperature
Procedure:
Make the syrup: Mix 8oz of sugar and ¼ cup water in a pot. Wash down the sides of the pot with a wet brush, to get any sugar crystals that may have clinged to the sides of the pot. I do this to avoid having my syrup crystallize. Once you get one crystal, it's like a chain reaction and you have to start all over again.
Place the pot on medium heat, and DO NOT TOUCH IT OR STIR IT. Put in your candy thermometer, and let it cook until it reaches 245Fº.  It took me about 8-10 minutes to reach the temperature.
Meanwhile, beat the egg whites to stiff peaks. Once they have reached the stiff peak stage, add the 2 oz of sugar and continue beating until the sugar combines, for about 1 minute.
When the syrup has reached its temperature add it to the beaten egg whites, while the beater is still on high speed. Add it in a slow, steady stream. You have to coninue beating the egg whites until the bowl has cooled down, about 10-12 min. By this point you will have a very thick meringue.
While the beater is still on add the butter, a little at a time. Make sure the butter is at room temperature, firm but easy to cut.
Add flavoring of your choice, but put it 1 teaspoon at a time. And don't add more than 2 teaspoons of flavoring.
Tips:
For the syrup: When it is cooking, contain the urge to move it. Don't touch it, or it can crystallize. Even though the recipe may call for medium – high temperature, we recommend you cook it on medium temperature.
Butter: Make sure the butter is at room temperature, it has to be firm, but easy to cut. I left mine outside too long and it was quite soft. I had to put the buttercream in the fridge for it to firm up, and then beat it again.
Variation:
You can also use only the Italian meringue to frost these cupcakes. Don't add butter to it, and you have a thick meringue frosting you can also work with.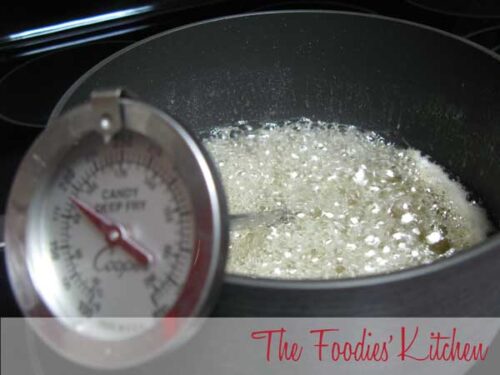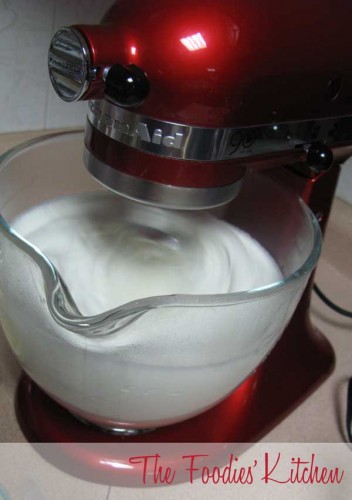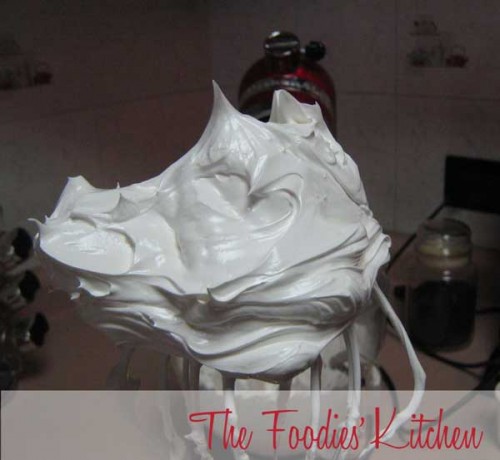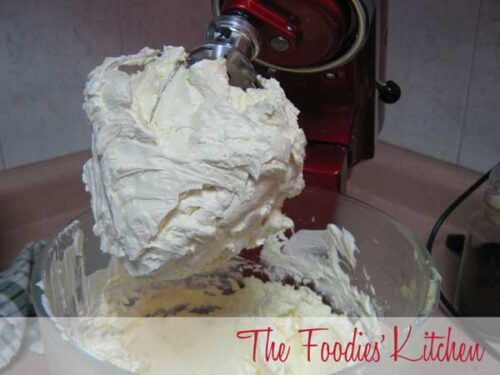 Two Tone Frosting Technique
Make a butter cream frosting that is thick enough to pipe with. We recommend you use gel colors for this. Pick the colors you want, and distribute them accordingly on separate bowls.
Take a disposable pastry bag, place a scoop of frosting in it, for example Caramel color.
Take a second disposable pastry bag, place a scoop of frosting in it, for example Chocolate Color
Grab the two bags, with the caramel and chocolate colors in them and place them side by side inside a third disposable pastry bag.
Cut the bags, to make the opening where the icing will pipe out. At this point you will have two bags inside a third bag, place your piping tip on it. I didn't use a coupler; I held the tip in place with one hand and piped with the other.
Pipe cupcakes! Use Wilton 1M tip, to make large swirls.
Extra Help: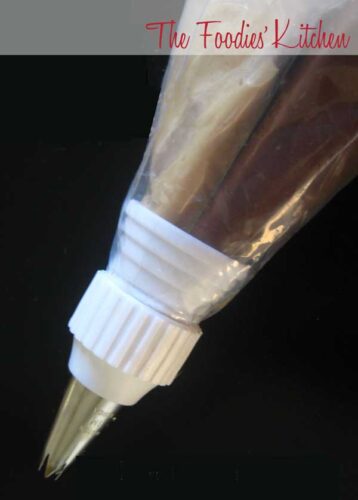 © 2010 – 2014, The Foodies' Kitchen. All rights reserved.