We had a request for a good Hollandaise Sauce recipe, and we are happy to share this one!
I learned to make this sauce a few years ago.   It is a delicious sauce, but be warned… you'll have some serious whisking to do, so be prepared!  This is the sauce used to make Eggs Benedict and it is also great as a sauce for beef medallions.  Just whisk a little Dijon mustard to it.  This recipe calls for clarified butter, which is unsalted butter that has the milk solids and water removed so all that remains is pure liquid golden-yellow butterfat, we have attached a link so you can follow the procedure on how to make clarified butter.
Helga
Picture from Recipe Tips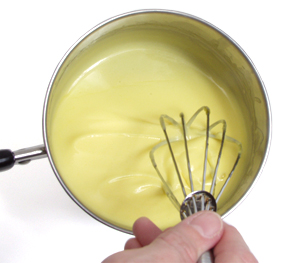 Hollandaise Sauce
Yield: 1 ½ cups
 Ingredients:
½ oz cider vinegar
¼ teaspoon black peppercorn
1 oz water
3 egg yolks
1 cup clarified butter
1 teaspoon lemon juice
Procedure:
In a small pot combine vinegar and peppercorns and reduce, au sec.
Add the water to the reduction
Have a bain marie ready, and place your egg yolks on its top bowl or pot.
Strain the vinegar reduction and add it to the egg yolks, whisking on the bain marie until the yolks thicken.
Gradually (this is very important) add the clarified butter in a very slow and thin stream, while you continue whisking. If you stop whisking, you can ruin the sauce.  Once you have added all the butter and you have a smooth and silky sauce add lemon juice and salt and pepper to taste.
Tip:
If your sauce curdles up, you can save it by adding a little water.
Glossary:
Au sec: Culinary term that means cooking until it is almost dry.
Bain Marie: A hot water bath used to cook foods gently or to keep cooked foods hot; also known as a water bath. A container for holding foods in a hot water bath.
© 2010 – 2013, The Foodies' Kitchen. All rights reserved | The Foodies' Kitchen.