This is guaranteed to be a favorite, babies love sweet potatoes.
As you will find in our Superfoods article, this vegetable is great to feed your child.
Helga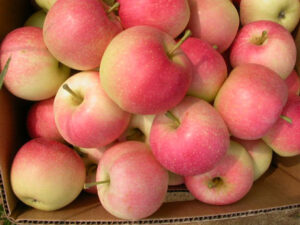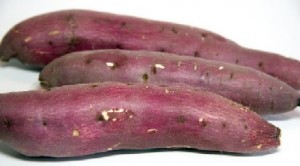 Apple & Sweet Potato Puree
Yields: About 4 portions
 Ingredients:
2 Fuji or Gala Apples, peeled and cored
½ sweet potato (I used a round, rather small sweet potato)
½ cinnamon stick
Procedure:
Cook the sweet potato in boiling water for about 20 min. Leave the skin on, you can peel it off when it's cooked.
In another pot, cook the apples with the cinnamon stick in boiling water, let is cook for about 15 minutes.
Peel the sweet potato; you can use your fingers or a spoon.
Transfer the sweet potato and the apples to the blender, add the water you used to cook the apples.
 Blend until smooth.
Images from Smyth's Apples and Austronesia

© 2010 – 2013, The Foodies' Kitchen. All rights reserved | The Foodies' Kitchen.