If you're having a grown up Halloween party, you can use this recipe to get a two toned drink to impress your friends.  All you need is orange juice and black vodka, I use the Blavod brand.  If you want an extra decorative touch, you can use plastic spiders to put on the rim of your glass.  You can also use this idea with Cranberry juice or tomato juice instead of orange juice, if you prefer.
Helga
Macabre Drink
Ingredients:
2 oz orange juice
2 oz black vodka
Procedure:
Fill the bottom half of a martini glass with orange juice.
Next, add the black vodka. Pour it over the back of a spoon and into the glass to help achieve a layered look on top of the juice.
Cheers!
… And, please rememeber: Don't drink and fly!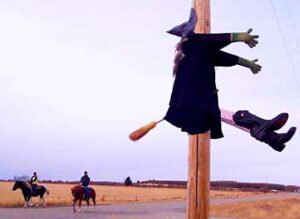 © 2010 – 2016, The Foodies' Kitchen. All rights reserved | The Foodies' Kitchen.