I love to combine chicken with fruits in savory dishes, especially apples, pears and berries. This is an easy dish that is full of flavor, the combination of the tender apples and plums with mustard and honey is a real appetite opener… and, your kitchen will smell great.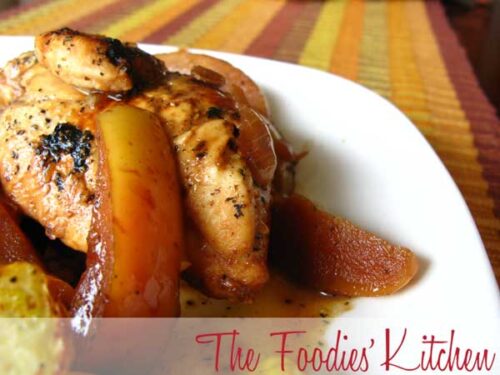 Apple-Plum Chicken with Wine and Honey-Mustard Sauce
Serves 2
 Ingredients
2 chicken breasts
1 tablespoon apple cider vinegar
1 tablespoon Dijon mustard
1 tablespoon honey
2 fuji apples
2 plums
2 tablespoons chopped onion
Salt and pepper
½ teaspoon thyme
2 tablespoons butter
2 tablespoons brown sugar
¼ cup white wine
Procedure:
Open up your chicken breast and cut into half.
In a small bowl, mix the apple cider vinegar, mustard and honey.  Add this marinade to the chicken breasts.  Let stand at least 30 min.
Meanwhile, cut the apples and plums into wedges.
In a medium sized pan over medium heat, melt the butter and add the apples and prunes. Sprinkle with brown sugar.Once the sugar has melted and the fruit begins to cook, about 5 min in, add the wine.
Set temperature to low and cover.
In another pan, heat about 1 tablespoon of oil.  Add the chopped onions and cook until they look tender and start to brown.  Remove chicken from the marinade and add to your pan.
Season with salt and pepper to taste and let brown for 4 minutes on each side.  Add the remaining marinade and the apple mixture from the other pan.  Sprinkle with thyme.
Cover and let cook for 10 min.
Serve hot with sauce and fruit on top.
Serving suggestion:
Mashed Potatoes and asparagus and/or green salad.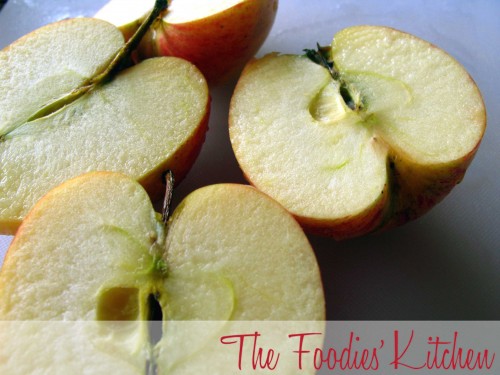 © 2010 – 2013, The Foodies' Kitchen. All rights reserved | The Foodies' Kitchen.