I used caramelized plantains and our basic homemade pancake recipe for this variation. I was half watching Top Chef the other night and the contestants were cooking dishes with plantain as one of the ingredients. I say I was half watching the show because I was working on making my daughter's birthday decorations with the TV on, but I was left with the desire to try something different using caramelized plantains as one of the ingredients.  Fried plantains are part of  the typical Guatemalan breakfast so this is the best I could come up with so far.  Try them! You won't be sorry.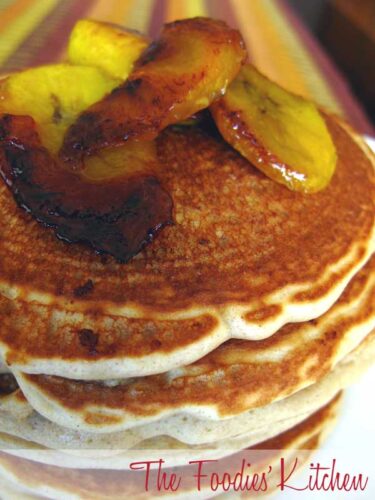 Caramelized Plantain Pancakes
A The Foodies' Kitchen Recipe
Ingredients:
For the plantains:
2 ripe plantains, sliced at an angle
3 tablespoons butter
½ cup orange juice
5 tablespoons brown sugar
For the Pancakes:
Yield: 6 Pancakes
1 egg
1 cup flour
¾ cup milk
2 tablespoons melted butter
2 tablespoon sugar
3 teaspoons baking powder
1 teaspoon powdered cinnamon
Pinch of salt
1 teaspoon vanilla extract
Procedure:
For the Plantains:
Heat a pan over medium high heat.
Add the butter, let it melt and when it begins to bubble, add the sliced plantains. Lower the heat to medium, let the plantain slices cook for about 3 min. Turn them over using tongs.
Sprinkle brown sugar on top and as soon as it begins to melt, add the orange juice. Let the plantains cook for about 5 minutes more. Set aside.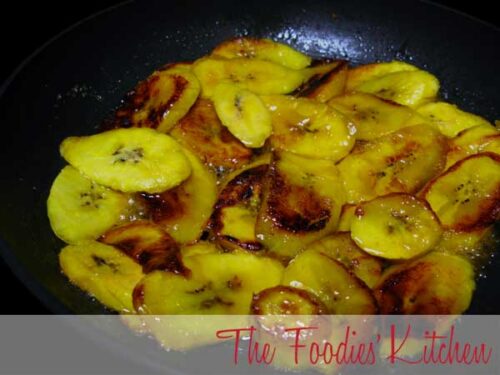 For the Pancakes:
In one bowl, mix flour, baking powder, salt, cinnamon and sugar.
In a separate bowl, mix egg, milk, melted butter and vanilla extract.
 Make a hole in the middle of dry ingredients and pour wet ingredients into it.
Whisk wet and dry ingredients until combined. Do not over mix the batter. It can have some lumps remaining.
Set the batter aside to rest for 5 minutes before cooking.
Heat the frying pan over the medium-high heat and brush it with few drops of oil or butter (you can use paper towel f you decide to use oil).
When the frying pan is hot, pour about ¼ cup of the batter onto the frying pan. Place 3 or 4 slices of the caramelized plantains on top. Then add a thin layer of pancake batter on top to "seal" the top of the pancake, this way the plantain pieces will be in the middle of the pancake.
Cook pancakes on one side for about 2-3 minutes or until golden brown.
Flip pancakes using the spatula and cook again for about 1-2 minutes or until golden brown.
Serve warm and with desired topping.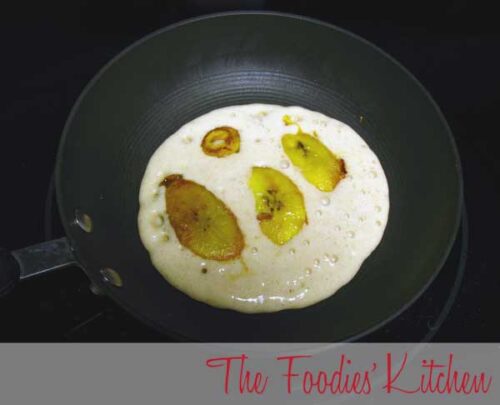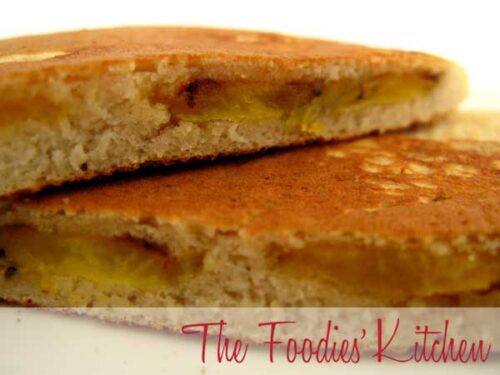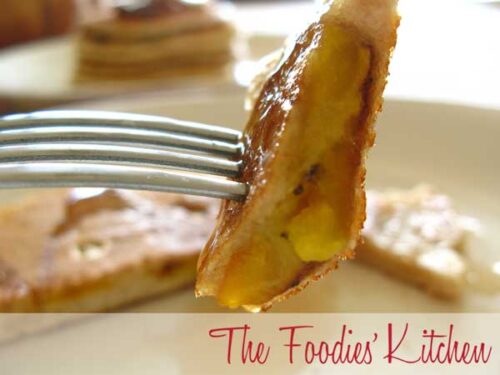 SaveSave
© 2010 – 2017, The Foodies' Kitchen. All rights reserved | The Foodies' Kitchen.