Gingerbread Cookies are a traditional Christmas treat, they are a mixture of spices, brown sugar and molasses.  Sometimes, I haven't been able to find molasses, so I use dark corn syrup instead.  The traditional cookie shape for this dough are gingerbread men, but you can make them into stars, or rounds.  I like to drizzle melted chocolate on top, or use royal icing.   You can also try them with a lemon glaze.
This dough will get very soft if you leave it out of the refrigerator, so work in two batches.  Cut the dough in half, cut out the shapes of your first half while the other is in the refrigerator. Otherwise, you will not be able to lift the shapes from your counter.
This year I made snowmen, stars, circles, trees and candy canes with one recipe.  I used royal icing and melted semi sweet chocolate to decorate.
Helga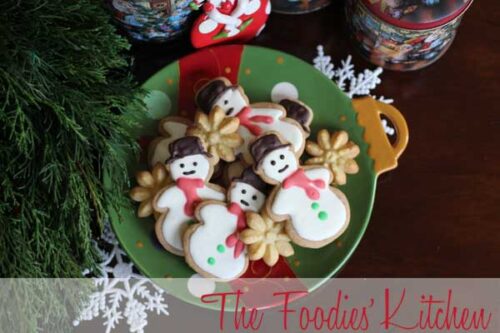 Gingerbread Cookies
Recipe by Martha Stewart
Makes 36
Ingredients:
2 cups all-purpose flour, plus more for rolling
2 teaspoons ground ginger
1 teaspoon ground cinnamon
½ teaspoon ground nutmeg
¼ teaspoon ground cloves
¼ teaspoon baking soda
¼ teaspoon salt
¼ cup unsalted butter, room temperature
⅓ cup packed dark-brown sugar
⅓ cup unsulfured molasses
1 large egg
Decorating sugar, icing, chocolate or sprinkles (optional)
Procedure:
In a medium bowl, whisk together flour, spices, baking soda, and salt; set aside. With an electric mixer, beat butter and brown sugar until smooth. Beat in molasses and egg. With mixer on low, add dry ingredients; mix just until a dough forms. Place dough on floured plastic wrap; pat into an 8-inch square. Wrap well; chill until firm, 1 to 2 hours.
Preheat oven to 350 degrees. Divide dough in half. Working with one half at a time (rewrap and refrigerate other half), loosen dough from paper. Cut out shapes, and transfer to baking sheets. Decorate with sugar or sprinkles, as desired.
Bake until firm and edges just begin to darken, 10 to 18 minutes, depending on size. Cool completely on baking sheets.
If you will decorate these with icing or melted chocolate, do it when they have cooled down.
Notes:
If you will use chocolate to decorate these, find semisweet baking chocolate, about 4 oz should be enough. Melt it over a pot of simmering water, and transfer the mixture to a sandwich bag,  to form a mini piping bag. Cut the smallest hole you can and that way you can drizzle your chocolate, outline the cookies or fill them up completely.
Use the technique explained on our royal icing recipe to fill the cookies.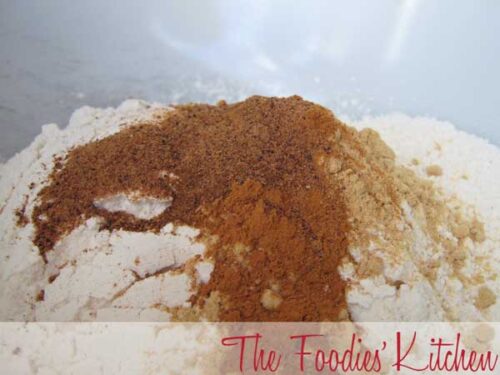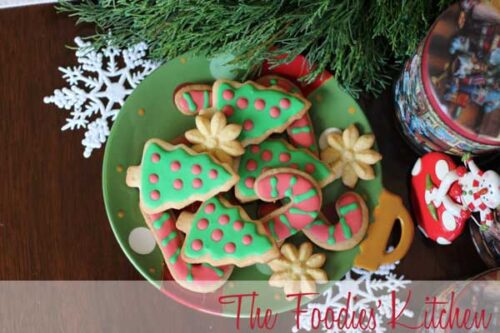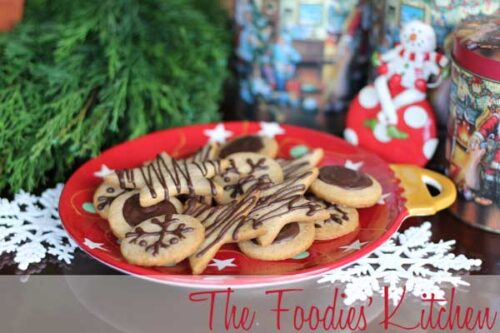 © 2010 – 2015, The Foodies' Kitchen. All rights reserved | The Foodies' Kitchen.