Green beans don't have to be boring! With this recipe, you also get a great looking side dish.  Sun dried tomatoes are full of flavor, so you don't need  much else to spice up a dish when using them.
Not a lot of people use this type of tomato.  Aside from being pricy, they are an acquired taste, but you can pretty much use sun dried tomatoes as you would use regular ones, they are not only full of flavor,  just one tomato provides 40% of your daily requirement of Vitamin C.
I have a big jar of these babies sitting in my fridge, so I will be looking for other recipes to share with you.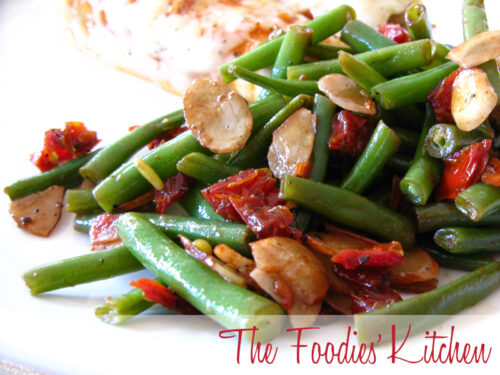 Green Beans with Sun-Dried Tomatoes and Almonds
A The Foodies' Kitchen Recipe
Serves 4
Ingredients:
4 cups green beans, trimmed
1/2 tablespoon olive oil
1/4 cup sun-dried tomato, thinly sliced
1/8 teaspoon pepper
1/8 teaspoon salt
1/4 cup sliced almonds
Procedure:
In a large saucepan of boiling salted water,cook beans until bright green and tender crisp, about 5 minutes. (If you want to cook them longer, you can… some people prefer crispy green beans, others prefer them overcooked…like my husband does)
Drain well and toss with olive oil, tomatoes, salt and pepper.
Transfer to a serving plate and sprinkle with almonds.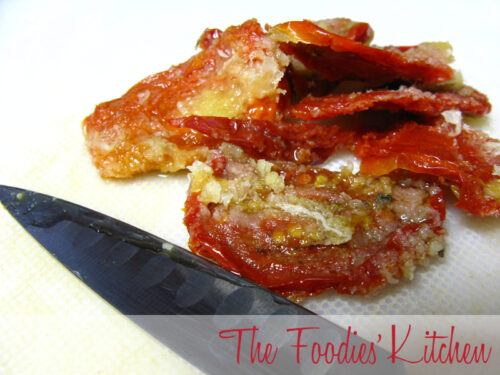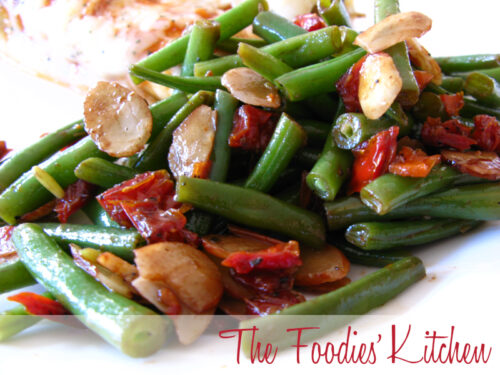 © 2011 – 2016, The Foodies' Kitchen. All rights reserved | The Foodies' Kitchen.