I had whole mushrooms at home, which I needed to use before they spoiled, so I searched for recipes.  I found this one, but had none of the other ingredients used to make it.  The original recipe calls for goat cheese, and of course… I din't have any, so I figured I would substitute with cream cheese.  If I would've known these were so delicious, I would've made more!  They are easy to make, and they make a fancy appetizer if you're hosting a dinner party at home, or want to impress a date.
Helga
Stuffed Mushrooms
Adapted from Martha Stewart
Makes 8 appetizers
Ingredients:
8 mushrooms
4 teaspoons seasoned breadcrumbs
4 teaspoons grated parmesan cheese
3 teaspoons cream cheese
1 teaspoon cream
A pinch of cayenne pepper
A pinch of black pepper
Preparation:
Preheat oven to 400ºF.
Lightly oil a baking sheet.
Remove stems from the mushrooms.
In a small bowl, combine the breadcrumbs with the parmesan cheese. Add pepper and cayenne, mix well.
Add your cream cheese and cream. Mix with a fork combine it all well. It will be very thick, like a paste. You can add some more cream in ½ teaspoon increments if you feel your mixture is too thick.
Spoon the mixture into mushroom holes. Sprinkle with breadcrumbs.
Bake for 15 minutes, the top will be golden brown.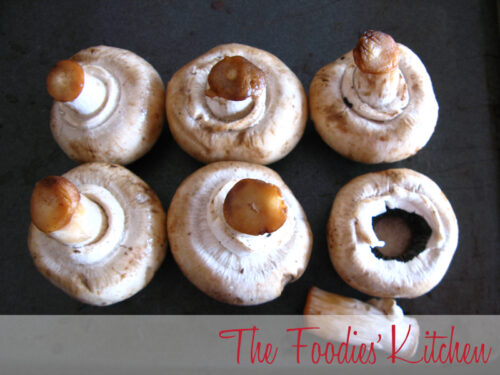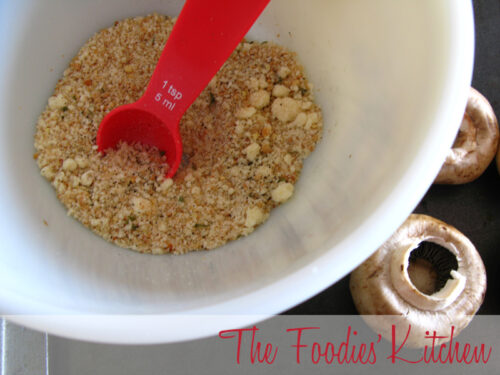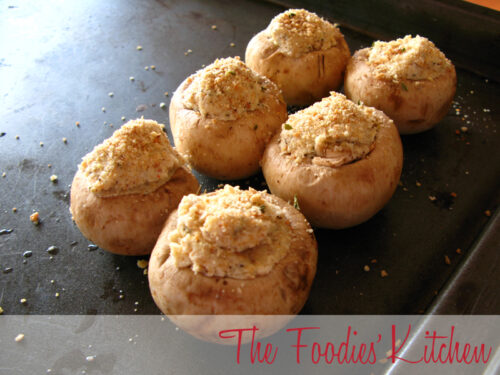 © 2011 – 2016, The Foodies' Kitchen. All rights reserved | The Foodies' Kitchen.