We are excited to feature this post, because other than our own Jake Van Ness (yes, Jake… You're ours) it is our first Guest Foodie post in which our guest has sent us out of their own motivation a recipe they tried, with their own photographs and a little story about the recipe.
Juan Pablo Gonzalez and Daniela Rojas are part of The Foodies' Kitchen community, and they wanted to share this wonderful recipe with us. We would love for more of you to send us your recipes and foodie experiences to make our website more interactive.  Don't be shy!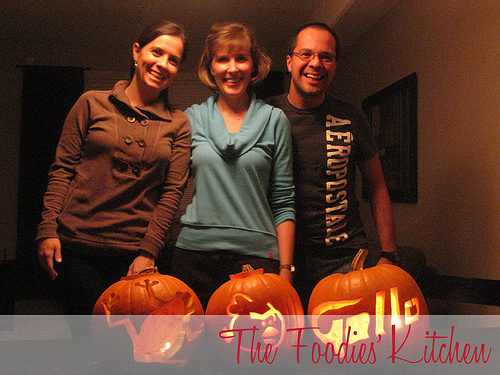 This recipe belongs to Tracey Cameron from Calgary in Canada.  She gave it to Juan Pablo and Daniela and told them about how she has been making this cheesecake for years… She has been making it for so long, she forgot where she got the original recipe from. Juan Pablo is from Guatemala, and is married to Daniela who is from Costa Rica. They are currently living in Canada and were guests at Tracy's home where they got to try this amazing cake. When they had a taste, they knew this recipe would be perfect to share on The Foodies' Kitchen because it's "the best thing we ever ate!".
They also shared a photograph on themselves, this was taken just before Halloween when they got together to carve pumpkins. Juan Pablo carved his to look like Gallo's logo, our national beer… ha ha! Daniela's frog in one of Costa Rica's rainforest staples. Great pumpkins! A special thanks to Tracy for sharing her recipe and to Daniela and Juan Pablo for sending it to us and taking these great photographs.
Kitty & Helga
  Triple Chocolate Cheesecake
Recipe from: Tracey Cameron from Calgary, Canada
Ingredients, for the crust:
1 cup crushed chocolate wafers (Oreo baking crumbs)
3 Tbsp melted butter
Ingredients, for the filling:
3 pkgs (680 grams) softened cream cheese
1 tsp vanilla
¾ cup granulated sugar
3 squares white chocolate (255 grams)
3 eggs
3 squares semi sweet chocolate (255 grams)
Ingredients, for the glaze:
3 squares semi sweet chocolate (255 grams)
1 tsp vegetable oil
2 Tbsp butter
Procedure, for the Crust:
Combine crumbs and butter, press firmly into bottom of 9 inch spring form pan.
Bake at 350 degrees fahrenheit for 10 minutes.
Procedure, for the Filling:
Blend cream cheese and sugar.  Add eggs one at a time, mixing well after each one.  Add vanilla.
Remove half the batter to another bowl.
Stir melted white chocolate into this portion.  To remaining batter, blend in melted semi sweet chocolate.
Pour dark batter into crumb lined pan followed by the white chocolate mixture; spread evenly.
Bake at 425 degrees fahrenheit for 10 minutes; reduce heat to 250 degrees fahrenheit and bake 30-35 minutes more or until centre of cake is just barely firm.
Remove from oven and run knife around sides.  Let cool completely before removing sides of pan.
Procedure, for the Glaze:
Melt chocolate with butter and oil, stirring until smooth.
Pour glaze over cake and let it set.
© 2011 – 2016, The Foodies' Kitchen. All rights reserved | The Foodies' Kitchen.