We weren't going to leave you hanging!  Here's some "special hot chocolate" to get you through the Holiday Season. I tried this after I finished baking a zillion cookies. I was looking for cake ball variations while I waited to pop the last batch out of the oven, and accidentally found this recipe which I put to good use immediately.
Mariano, I'm sorry but I used a little itty bit of our Zacapa Rum for this, it's all the rum we had in the house (time to go shopping)
Do try this at home. I didn't put any sugar in it, because I used semi-sweet chocolate, which is sweet enough for me. (Zacapa and Frangelico liquors are also on the sweet side.)  This is the perfect ending to my day, so I bid you a good evening. I'm taking this to bed. Oh! before I go.  For those of you who haven't tried Zacapa Rum yet, let me tell you:  It is the…best… rum in the world.   You can read all about it here.
Merry Christmas!
 Helga
Spiked Hot Chocolate
Recipe from Epicurious
Serves 6
Ingredients:
4 cups milk
3 ounces semi-sweet chocolate
½ teaspoon cinnamon
½ cup dark rum
½ cup Frangelico
Whipped cream, for garnish
Preparation:
In a saucpan, combine the milk, the chocolate, the sugar, and the cinnamon and heat the mixture over moderate heat, stirring, until the chocolate is melted and the sugar is dissolved.
Add the rum and the Frangelico and heat the mixture, stirring, until it is hot.
Divide the mixture among 6 heated mugs and top each drink with some of the whipped cream.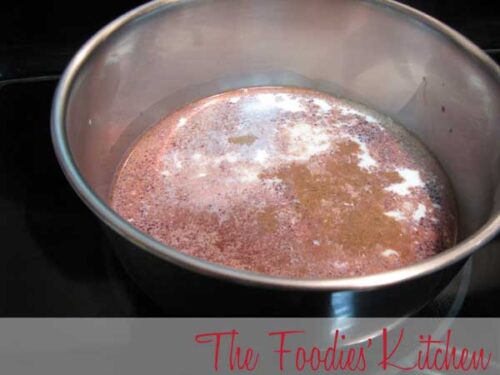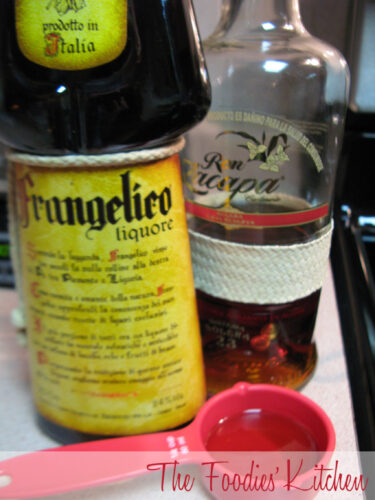 I apologize for the photographs… it was late.
© 2011 – 2017, The Foodies' Kitchen. All rights reserved | The Foodies' Kitchen.