When Jake flew to Guatemala to visit this last Holiday season, we ate out. A lot. But we were also invited to many family and friends gatherings for homemade meals. We were invited to a family BBQ after Christmas, and since we didn't want to get there empty handed Jake made these Spicy-Sweet Chicken Wings to bring over.
Jake gave me American Masala as one of my Christmas Gifts, and it worked out perfectly because Jake was able to make these Spicy-Sweet Chicken Wings from Suvir's book. My family (that already loved him) went nuts about them and now they love him even more! And having said that, we don't have a picture of the baked wings on a nice plate… That is because as soon as we got them out of the oven we went next door and… they flew away! So, we have a picture that we're borrowing from the Savior's recipe over at Martha Stewart. Make sure to click here so you can get his book on Amazon.
This is an extremely easy recipe, perfect for the Super Bowl. Best thing is that you can marinade them overnight to save some time on Sunday. It is savory, easy to double. And trust me, you will need to double for a Super Bowl party, even make two double batches. They are that good. Special thanks to Suvir for signing my book! It was a very exciting surprise when I opened the book and found that he had written a special message for me! Thank you Suvir!
Kitty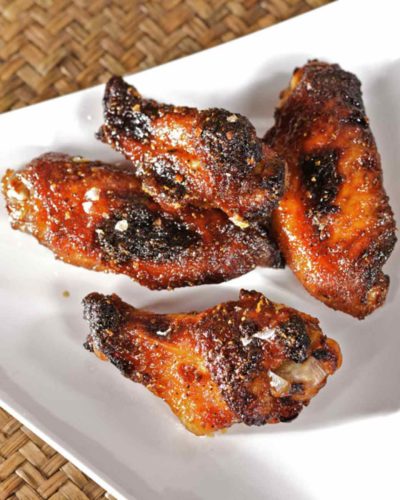 Spicy-Sweet Chicken Wings
Recipe from American Masala by Chef Suvir Saran
Ingredients:
5 tablespoons honey
2 tablespoons extra-virgin olive oil
1 teaspoon kosher salt
1 teaspoon cracked peppercorns
1 teaspoon garam masala
1 teaspoon paprika
½ teaspoon cayenne pepper
½ teaspoon ground cumin
2 pounds chicken wings, wings halved at the drumette joint
1 tablespoon white wine vinegar
Coarse sea salt
Procedure:
Heat your oven to 400°F.
Whisk 2 tablespoons of honey with the olive oil, salt, cracked pepper, garam masala, paprika, cayenne pepper and cumin in a small bowl. Pour into a resealable gallon-sized plastic bag and add the chicken wings. Turn to coat with marinade and refrigerate for 30 minutes or overnight.
Line a baking sheet with aluminum foil and place a wire rack on top of the baking sheet (you can also line a broiler drip pan with foil and cut slits in the foil so the juices don't pool around the chicken). Arrange the chicken wings in a single layer on the rack. Roast for 35 minutes.
Meanwhile, whisk the remaining 3 tablespoons of honey and vinegar in a small bowl. Remove the wings from the oven and brush with the honey-vinegar. Continue roasting until the wings are slightly charred and crisp, about another 15 to 25 minutes.
Sprinkle with some coarse salt and cool for 5 minutes before serving.
© 2012 – 2016, The Foodies' Kitchen. All rights reserved | The Foodies' Kitchen.