Sometimes, you just want something quick to eat. Like a sandwich.  This little invention has few ingredients, but a lot of flavor.  I found these mini pita breads at the store, but you can use regular ones.  The key to this sandwich are the sun-dried tomatoes, those little pruney guys are packed with flavor!  I also added some grilled eggplant to give it a little extra bite.   (If you have some pesto around, adding some would be a good idea.)
Hey, it's better than ham and cheese!
Helga
Sun-Dried Tomato, Arugula & Fresh Cheese Mini Pitas
(I couldn't come up with a better name)
A The Foodies' Kitchen Recipe
Serves 2
Ingredients:
4 mini pitas
1 small eggplant, sliced
olive oil
A few arugula leaves
Farmer's cheese (Queso Fresco)
8 sun dried tomatoes
Cream cheese
salt and pepper,to taste
 Procedure:
Slice your mini pita breads open.
Using your electric griller, cook eggplant that has been previously drizzled with olive oil and seasoned with salt and pepper.
Place a couple of arugula leaves on the bottom, top with  farmer's cheese slices. Just enough to cover the bread. You can add a little or a lot of sun dried tomatoes. I prefer to add a lot, so I slice them and put enough of them to cover the area.  Add the grilled eggplant. Season with salt and pepper.
Spread cream cheese (and/or pesto) on your mini pitas' stop slices, cover up your sandwiches and enjoy!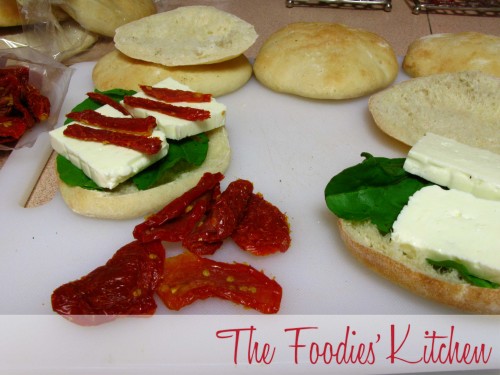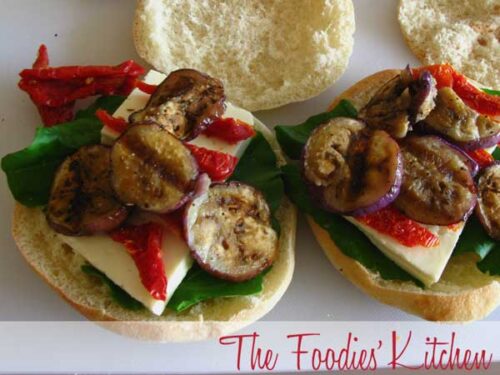 © 2012 – 2016, The Foodies' Kitchen. All rights reserved | The Foodies' Kitchen.