I can't believe my Tita (Grandma) is 91! She is a pie master and cook extraordinaire. And, she also helped me create my first cookie business when I was about 9 years old. Tita Flory had this adorable little store called Rainbow, which sold smock dresses, baptism baby gowns, first communion dresses and even hand sewn wedding gowns. I had the pleasure of being awesomely dressed with her creations since I was a baby. Here is a picture of a very excited Kitty with her Hello Kitty Piñata. Rocking a smock dress made by grandma.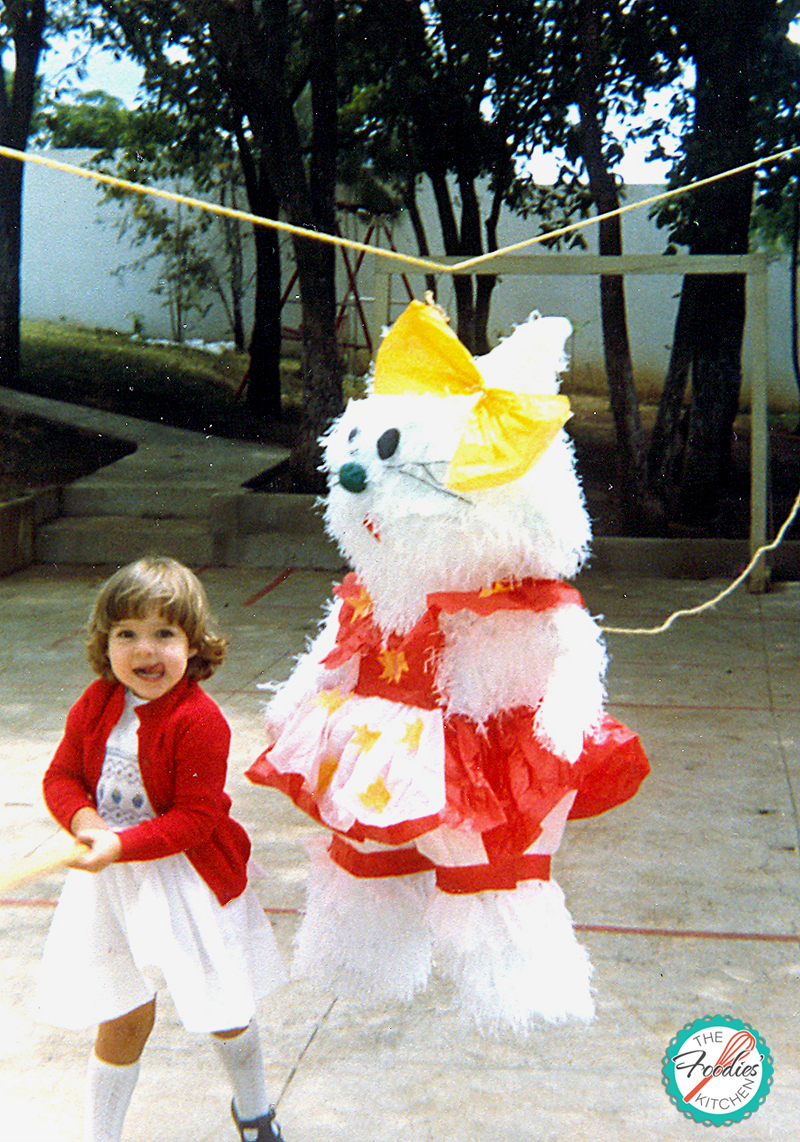 Back in 1989, she opened this little store in zone 10, and since I was enjoying my end of year vacations, I offered to help her out. Mostly sorting hangers, greeting customers and rearranging dresses. Since there was nothing near by to snack on, I thought that would be a great business idea to sell cookies door to door to the sale clerks around my grandma's store. She said she would help me if I could get the ingredients for her. Called my dad and  I presented my business idea: selling cookies at $1.25 for a bag of 10. I had no idea how the priced worked out with the costs, but dad agreed. Ingredients, check. Kitchen and assistance with the oven, check. Plastic bags (provided by grandma), check.
The next day I went out around the store offering cookie bags. It was a success. We sold out on the first day, and for the next few days I was a busy 9-year-old: I would work (more like hang out) at the store, went to sell the cookies at around 10AM,  and in the afternoons I'd bake. Later on, I'd pay back my dad (in cookies, of course) and ended up having some little money saved up for the holidays. Grandma Flory gave me my first entrepreneur adventure. Not that I did it perfectly (never paid the investors), but in my 9 year old mind, it was the most profitable business ever.
So, about a month ago, when I asked her what cake did she want for her birthday she said "A cake with orange and poppy seeds". That was all I needed to know, so I went on a search for the best cake I could find. A week before her birthday, I already had it narrowed down to 3 recipes. Then, that Monday, an email came from Corinne Regalos. My KitchenAid was here!
I ordered my KitchenAid mixer a few months back for my birthday in April, but since it was a special order (a beautiful Aqua Sky KitchenAid Artisan 5-Quart Stand Mixer), they had to bring it in for me, meaning I'd have to be very patient and wait 3 months for it to get here. The wait was all worth it, and what better way to break it in than with Tita's birthday cake. I went to get the mixer, but as I had a couple of meetings lined up, it wasn't until her birthday that I was able to use it.
I decided on using Martha Stewart's Orange Almond Cake with Swiss Meringue Buttercream – on her video, she says that this cake can easily be doubled for a wedding cake, so it gave me a very good idea on the flavor it would be. Since I didn't have orange zest, I replaced it with lime zest, made my own cake flour (see the note at the end of the recipe), and added poppy seeds after the birthday girl's request. Don't let the numerous steps scare you. It is an easy cake to make, and I was able to bake it at 10AM, decorated by 4PM and served at 6PM that same day (with a 45 minute drive in between).  I specially love the Swiss Meringue Buttercream as it doesn't crystalize, making it so much easier and faster to whip the recipe.  The cake was perfect. it was not overly sweet nor heavy, but still had the almond taste you get from wedding cakes. The cake was a success after seeing it fly off the dinning room table… and the most important thing: grandma loved it.
¡Felíz Cumpleaños Tita!
Kitty
Zesty Almond Poppy Seed Cake
with Swiss Meringue Buttercream
Adapted from this recipe by Martha Stewart
Yield: Makes one 8-inch two-layer cake
Ingredients, for the Cake:
1 cup unsalted butter, melted and cooled, plus more for pans
1 ½ cups sifted cake flour (not self-rising), plus more for pans *see note below
1 cup plus 3 tablespoons sugar
6 large eggs, separated
Grated zest of 1 lime
⅔ cup strained, freshly squeezed orange juice
½ teaspoon pure almond extract
1 teaspoon of poppy seeds
1 ½ cups finely ground blanched almonds
Pinch of salt
Ingredients, for the Buttercream:
¾ cups sugar
3 large egg whites
Pinch of salt
¼ teaspoon cream of tartar
1 cup of unsalted butter, cut into tablespoons, room temperature
½ teaspoon pure vanilla extract or vanilla beans
Directions:
Preheat oven to 350 degrees. Butter two 8-inch round cake pans and line with parchment paper. Butter parchment and flour cake pans; set aside.
If you haven't done so, melt your butter and let it cool.
In the bowl of an electric mixer fitted with the whisk attachment, beat together 1 cup of sugar and the lemon zest. Then, add the egg yolks and mix until light and fluffy.
Add orange juice, and almond extract; mix until well combined. Turn mixer off. Remove the whisk and add the paddle attachment. With the mixer on medium, slowly add ground almonds, followed by flour; mix cake batter until well combined.
In a large bowl, whisk egg whites until soft peaks form. Add salt and remaining 3 tablespoons sugar; beat until stiff but not dry. Set aside.
Fold melted butter into cake batter, a little at a time. Gently fold in egg white mixture, taking care not to deflate whites. Divide batter evenly between prepared cake pans.
Transfer to oven and bake until a cake tester inserted in the center of each cake comes out clean, about 35 minutes. Transfer cake layers to a wire rack to cool completely.
For the frosting, heat sugar and eggs: Bring a saucepan filled with about 2 inches of water to a simmer. Meanwhile, combine sugar, egg whites, and salt in a large heat-proof mixing bowl. Set bowl over (not in) simmering water, and whisk until whites are warm to the touch and sugar is dissolved, 2 to 3 minutes. Heating the eggs relaxes their proteins, enabling the eggs to whip up higher and more quickly; the sugar also melts, for a silky smooth consistency. Test by rubbing between your fingers; the mixture should feel smooth.
Whip meringue: Attach bowl to a standing electric mixer fitted with the whisk attachment, and beat on low speed until foamy. Add cream of tartar, and beat on medium-high speed until stiff, glossy peaks form and mixture is cooled completely, about 10 minutes.
Mix in butter: Reduce speed to medium-low; add butter 2 tablespoons at a time, beating to incorporate fully after each addition. Don't worry if the buttercream appears curdled at this point; it will become perfectly smooth again with continued beating. After all the butter has been incorporated, beat in vanilla.
Finish: Switch to the paddle attachment. Beat on the lowest speed to reduce air bubbles, 3 to 5 minutes. Let stand, covered with plastic wrap, at room temperature.
Invert cakes to remove from pan and remove parchment paper; reinvert cakes. Using a serrated knife, trim tops of cakes to make level. Place four strips of parchment paper around perimeter of a serving plate or lazy Susan. Place the first layer on the cake plate. Spread frosting over the first layer with a small offset spatula so it extends just beyond edges.
Place the remaining layer on top, bottom-side up. Gently sweep away any loose crumbs with a pastry brush. Using an offset spatula, cover the top and sides with a thin layer of frosting (also use any of the excess frosting visible between the layers). Refrigerate until set, about 30 minutes.
Using an offset spatula, cover cake again with remaining frosting.
Decorate with gum paste flowers.
Notes:
Since I didn't have Cake flour, I used 1 ½ cups of all-purpose flour, removing 3 tablespoons from it, and adding 3 tablespoons of cornstarch. I sifted 6 times to get all the cornstarch and flour well combined and airy.
SaveSave
© 2013 – 2017, The Foodies' Kitchen. All rights reserved | The Foodies' Kitchen.