Meet my nemesis. The Red Velvet Cake. I have tried endless recipes, and last year I found this recipe by Bakerella and I loved it. Specially because it uses all-purpose flour. The cake is moist, crumbly… perfect to pair with cream cheese frosting. My only issue? I couldn't get a nice and proper red dye to make it red. If you look at the post linked above, you'll see that the cupcakes ended up being fuchsia, not red. And that was the red dye I could get here. Fast forward a couple of months, and I brought back from a trip to the US a couple of red dye bottles. Yay!
Last week I was itching to bake. It was late at night, but I didn't care. I thought at some point, of making a chocolate stout cake, but then.. I couldn't help myself and I grabbed all the ingredients, and whipped the cake pretty quick. No heavy machinery needed. A whisk and a bowl. Nothing simpler than that. And, I've found that I can bake the recipe in 3 pans, that way I can do a three-tiered cake. All cakes with three tiers look more impressive, and are more tasty. Maybe it's because you take a longer time to eat it? I don't know, but definitely takes someone's breath away.
At some point I will try to make a Velvety cake with natural food dye, however, in my previous tests, adding juice instead of dye color to a recipe alters it completely, as you can see online, there are some cupcakes or beet cakes that sink a bit in the middle… But, we will try. I have my eye on this Red Velvet Cake With Beets by the amazing Beth Kirby from Local Milk. Anyway, a little dye in a cake once a year, never hurt anybody! You can replace the color as you wish, maybe a bright blue or a green maybe? There are no limits to the imagination!
Kitty
Red Velvet Cake
Recipe by Bakerella
Yields one 8-inch three-tier cake
Ingredients:
2 ½ cups all-purpose flour
2 cups sugar
1 Tablespoon cocoa
1 teaspoon salt
1 teaspoon baking soda
2 eggs
1 ½ cups oil
1 cup buttermilk
1 Tablespoon vinegar
1 teaspoon vanilla
2 oz. red food coloring
Cream Cheese Frosting:
8 oz. cream cheese, room temperature
1 cup butter, room temperature
1 teaspoon vanilla
6 cups confectioners' sugar
Preparation:
Pre-heat oven to 350 degrees. Line with wax or parchment paper the bottom of three 8-inch cake pans, then grease and flour them as well. This makes it easier for you to remove the cakes from the pans.
Lightly stir eggs in a medium bowl with a wire whisk. Add remaining liquid ingredients (oil, buttermilk, vinegar, vanilla and food coloring) and stir together with whisk until blended. Set aside.
Sift all the dry ingredients in a big mixing bowl.
Add wet ingredients to the dry ingredients and mix with a whisk for a couple of minutes, or until completely combined.
Divide the batter into the cake pans and then drop the pans on the counter a few times to release any air bubbles.
Bake for about 30 minutes or until a toothpick inserted comes out clean.
After ten minutes, remove from pans and cool completely on a wire rack.
When the cakes have completely cooled, make the frosting. Sift sugar and set aside.
Beat cream cheese and butter on high until creamy. Add vanilla.
Then, add the sugar in batches. Scrape down the sides in between each addition. And frost away. I used two tablespoon scoops per tier, so when I frosted the exterior of the cake had more frosting for the outside!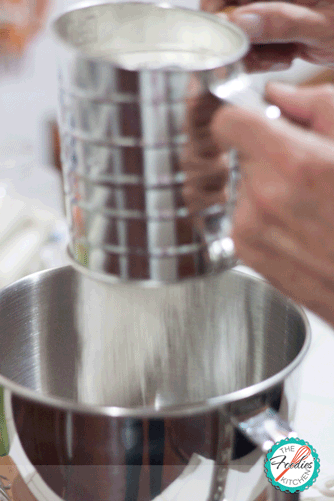 © 2014 – 2016, The Foodies' Kitchen. All rights reserved | The Foodies' Kitchen.