Frozen Yogurt is a great way to use ripe fruit and make it into something great… Plus, look at those colors! Today I am using strawberry purée left from the Strawberry Curd I prepared a few days before. Added a few ingredients and voilá! Frozen yogurt goodness. Who doesn't remember going to the yogurt shop's place and ask for your favorite yogurt mix (mine was yogurt+peaches, with peaches on the side) and watch as they prepared it, resulting in that creaminess that only their machines could. Now, you can get that reach creaminess too. The trick is to use your food processor after the yogurt has frozen. Just like they did at the yogurt shop. By mixing it twice, you are sure that all the fruit gets fully incorporated and that it will break up all the little ice pockets, resulting in a smoother frozen yogurt.
To add some more fruit fun, I also had some blueberries… so in they went. The result: the most perfect strawberry-flavored pink-colored frozen yogurt. This will make enough for 6 servings. You can easily double the recipe if needed. Also, if you want to add chopped strawberries instead of the blueberries, go ahead. You can use this recipe as a base and make up your own combinations! Share them with us, we would love to see your kitchen adventures!
Kitty
Strawberry & Blueberry Frozen Yogurt
A Foodies' Kitchen Original Recipe
Servings: 6, ½ cup servings
Ingredients:
1 cup yogurt
1 cup strawberry purée
Juice of 1 lemon
2 cups of frozen blueberries, thawed
2 tablespoons of honey (if needed)
Directions:
If you are not using the remaining thick strawberry purée from Strawberry Curd recipe, you can blend 2 cups of strawberries with a tablespoon of water.
Now, in a small sauce pan, add the strawberry purée and the juice of one lemon, bring it to a simmer and let cool completely.
In a large bowl, add

 the yogurt and pureed strawberry. Mix well. Taste it, and if you feel it needs a little bit more sweetness, add the honey. For my taste, it was sweet enough, so I skipped that.

Transfer to a covered container, or in my case, a loaf pan lined up with wax paper covered with plastic wrap, and freeze for 8 hours or overnight until it firms up.

Take the container out of the freezer and let sit at room temperature for 30-45 minutes, and fluff it up with a fork. Place frozen yogurt back in the food processor, and pulse until soft and creamy.
Transfer the soft strawberry frozen yogurt to a bowl and add the blueberries. Mix until combined.
Place the yogurt and blueberry mixture back in a plastic container with a lid and freeze for a couple of hours. When serving, remove the ice cream from the freezer 20 minutes before doing so, to let it soften.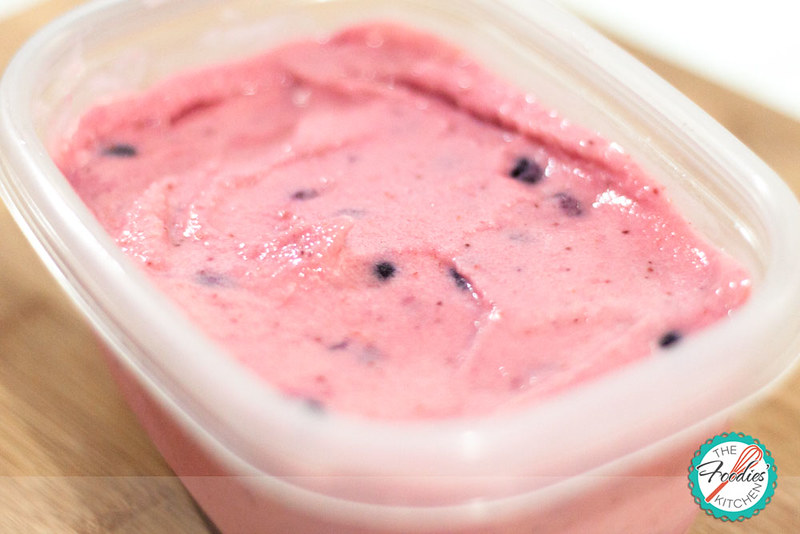 © 2014, The Foodies' Kitchen. All rights reserved | The Foodies' Kitchen.