Estilo Culinario is the second edition of this reality show where 12 foodies compete weekly to show off their culinary skills and get to the grand finale on June 14, just a few days passed their one year anniversary. Last year, our amazing friend and foodie VeraLu won the second place and now is the proud owner of Lulu Cocina Orgánica. You can follow her adventures on her site, Facebook, Twitter and Instagram.
Back to Estilo Culinario, each round is judged by chefs from ACAM – Escuela Culinaria, the best culinary school in Guatemala, where its students get international level culinary lessons. The chefs judging are: Chef Eduardo Gonzalez, Chef Zajar Campos, Chef Rafael Girod, Chef Pablo Soto and Chef Mario Campollo (from whom we've shared a delicious recipe). To learn more about the judges and their amazing careers, you can clink here.
Now, we introduce you to Ma. Andrea Llarena. Ma. Andrea is part of an amazing family that Kitty has known since school, so when we found out that she was in the run to win Estilo Culinario, we had to see her and interview her. So keep on reading our interview of Ma. Andrea with The Foodies' Kitchen.
Helga & Kitty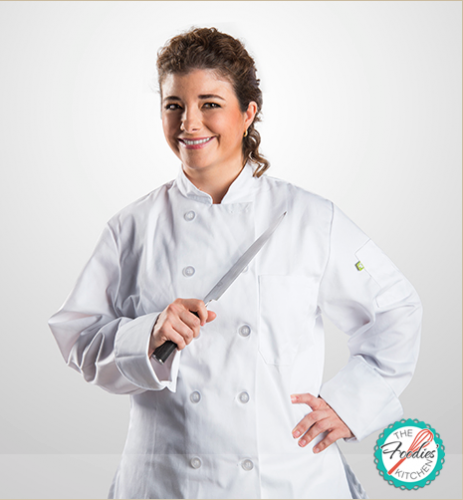 Hello Ma. Andrea, congratulations on being part of the top 4 of Estilo Culinario! How can you describe your experience in the reality show?
Ma. Andrea: It has been an incredible experience from every single point of view! Specially being judged by this amazing chefs, it is an honor and a continuous learning experience.
For our readers who are not familiar with the reality, How does Estilo Culinario work?
Ma. Andrea: For the auditions, about 25 of us cooked with our own ingredients in the culinary school ACAM, where the first challenge took place. There, they chose 12 contestants for the live show, and every weekend from then, two people get sent home. Today, there are 4 of us in the semi-final and it has been an amazing experience.
In these past few weeks, What's your favorite recipe made in Estilo Culinario?
Ma. Andrea: A shrimp salad and asparagus with a mango dressing.
After Estilo Culinario (we hope you're the winner!), Do you plan to focus more in cooking? You definitely have an eye and taste for it!
Ma. Andrea: In fact, I just finished working in the UN (United Nations) to dive 100% into food and cooking, and not only the experience from the reality, but the different events I've been lucky to cater, have made me very happy. I can tell you that this is my fulfillment work wise.
How has your perspective changed towards food and cooking since you entered Estilo Culinario?
Ma. Andrea: It has only made the world of food more fascinating to me. I have no problem being in front of an audience, in fact, I think I love it!

Now, a few more relaxed questions… Do you remember how old were you when you first were interested in cooking? Do you remember what you first made?
Ma. Andrea: Ever since I have memory, I am in the kitchen. I honestly can't remember what I cooked, but I can tell you I did it for my brothers and sisters.
What's your perfect dinner menu?
Ma. Andrea: This is a tough question, because there can be unlimited options, but I would go with something light and simple, something that makes the guests dream about it that and the following nights, and makes them want to taste the almost celestial flavor boom in their palates.
What's your dream date? (It can be someone famous… Let your imagination fly!)
Ma. Andrea: I know this is pure imagination, so my dream date would be to be with my dad again, cook the shrimp he loved so much and see him enjoy them.
What's your favorite food related movie or TV show?
Ma. Andrea: I love to see the chefs Gordon Ramsay and Jamie Oliver.
What's on your kitchen waiting for you to be cooked?
Ma. Andrea: Goat cheese and dehydrated tomatoes…
———
Thank you for the interview Ma. Andrea! If you want to catch the live Semi Finals of Estilo Culinario at Miraflores, you can head down to Plaza Tenedor from 3PM. And for all our readers, you can vote online too! So #VoteforMaAndrea on Estilo Culinario's site to help her win, just look for her picture and click Like!
Fotos cortesía de  Estilo Culinario/Miraflores
© 2015, The Foodies' Kitchen. All rights reserved | The Foodies' Kitchen.