We are so lucky. We are part of an amazing group of bakers, put together by Chan and Mariade from TBR Magazine. At least once very couple of months, we get together to catch up, have an amazing brunch and swap goodies between us all. This time, our host was Muriel from Muriel Postres Gourmet. She treated us to a delicious brunch (Molletes Benedict and Nutella Banana Pancakes 😱). Everything was so good, I came back a few days later! This is a pic of such brunch… and you can see here all the delicious goodies we got to try!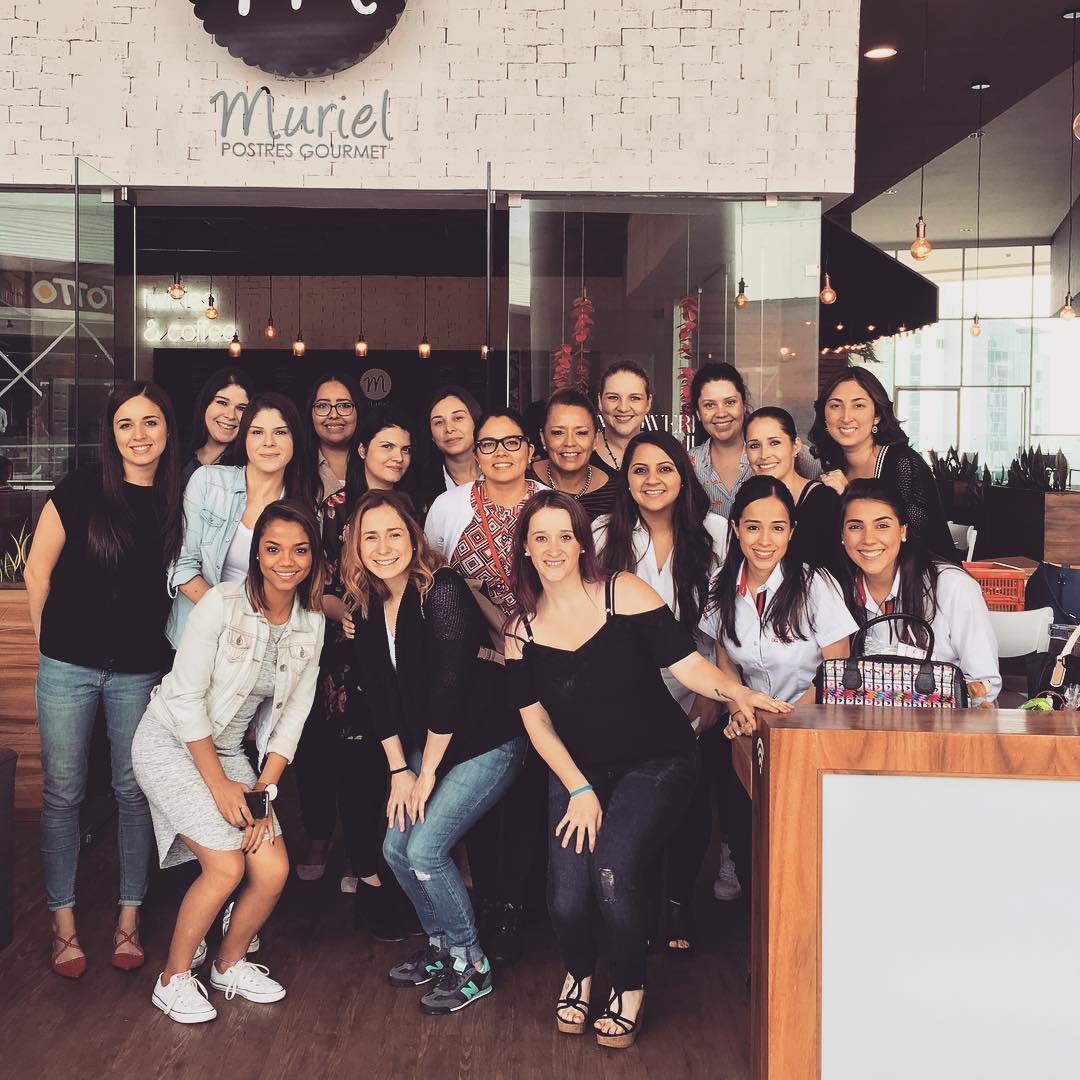 Each of the Guatebakers meet up have a theme, and this time it was summer! Helga baked mini Pavlovas with summer fruits, and I baked this amazing Guava Puff Pastry Braid. At first, they were supposed to be little puff bites, but after picturing a puff pastry braid (right before baking), I couldn't resist.
Since it was the first time that I baked a braid, I adapted different directions, but when writing the post found this diagram of Living Locurto to be the most helpful when cutting through the dough to build the braid.
Guava paste or guava candy are easy to come by if you look in the international section of your supermarket (if you're US-based) or in the candy section if you're in Latin America. I happened to have a big block of Guava paste around, so that's what I ended up using.  Some recipes suggested adding extra lemon flavor to the cream cheese, but found it didn't need it at all. What I do suggest is using sanding sugar so  the sugar granules are whole after they bake.
This is a quick dessert to pull together, but takes a bit of planning! You can pick up the puff pastry at the supermarket or a bakery. I love Pastelería Ciro's puff pastry, and they sell it frozen, but if you leave it in the fridge overnight (rather than the freezer), the next morning you'll have puff pastry ready to use. The sanding sugar, we love the variety from Blossom Cakes. Happy Baking!
Kitty
Guava Puff Braid
Adapted from Epicurious
Ingredients:
1 sheet frozen puff pastry, thawed
flour, for dusting
4-oz. cream cheese, softened
6-oz. guava paste
1 egg
½ tablespoon milk
1 tablespoon sanding sugar
Directions:
Cut the guava paste into ½-inch slices and set aside.
After your puff pastry has thawed, place your dough on a silicone mat or parchment paper dusted with flour, so you can roll and later transfer it easily to a baking sheet.
Dust your rolling-pin, and start rolling out the dough until it forms a rectangle that's 15-inch long by 8-inches wide, about ¼-inch thick.
To make the braid process easier, score the pastry sheet lengthwise into thirds. The middle will be for your filling.
Make diagonal cuts on each side of your pastry, making sure that the braids line up.
Spread the cream cheese in the middle using an offset spatula, making sure its nice and smooth.
Place the guava paste on top of the cream cheese, covering the middle section.
Starting from the top, take one strip from the left-hand side and fold over the filling, then repeat with the right-hand side. Repeat all the way down until you have a neat braid. Tuck the last end underneath the braid.
Preheat oven to 425°F with rack in middle.
Transfer your pastry to a baking sheet. Lightly beat the egg and milk, and brush the egg wash on top and sprinkle some sanding sugar on top.
While the oven is heating, place the baking sheet in the fridge for a few minutes.
Bake until puffed and golden-brown, about 18-25 minutes and the filling is bubbling. Transfer pastry to a rack to cool completely.
---
Have you made this recipe?
Please let me know how it turned out for you! Leave a comment below and share a picture with the hashtag #thefoodieskitchen!
Want more?
You can subscribe to our newsletter and we'll send you the monthly recipes! You can also keep up to date on Facebook, Twitter, Instagram, Pinterest, or Tumblr.
© 2017, The Foodies' Kitchen. All rights reserved | The Foodies' Kitchen.