January is here and like many other people do, I also like to use this month as a time to get re-organized and think about ways I can make my year a better and less hectic one. For me, this means getting super organized and this includes my Meal Prep Mondays. As many of you know, for years I have been cooking for the week on one particular day; this helps me focus on my job and other things for the rest of the week and it just makes my life a lot easier in general. Meal prepping is also a great way to help keep your grocery budget under control, and helps you stick to a healthier eating plan.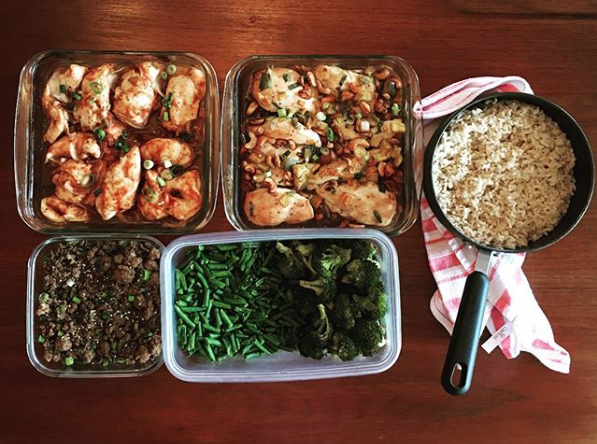 I have shared many of the recipes I make at home for my weekdays on this blog, but a lot of people have asked me how I get organized to do it all in one day?  It seems like a daunting task, but it doesn't have to be. So, here are my Meal Prep tips!
Invest in proper containers
Think about how many people you will be cooking for, in my case I cook for 5 people. The containers I use are large, transparent and rectangular ones for my meats and vegetables. And I have a few round (also transparent) ones for grains. That way, I can neatly pile them up inside my refrigerator and I can see what's inside them.  Airtight containers are ideal.  Make sure you make room for these containers in your refrigerator before you start your meal prepping.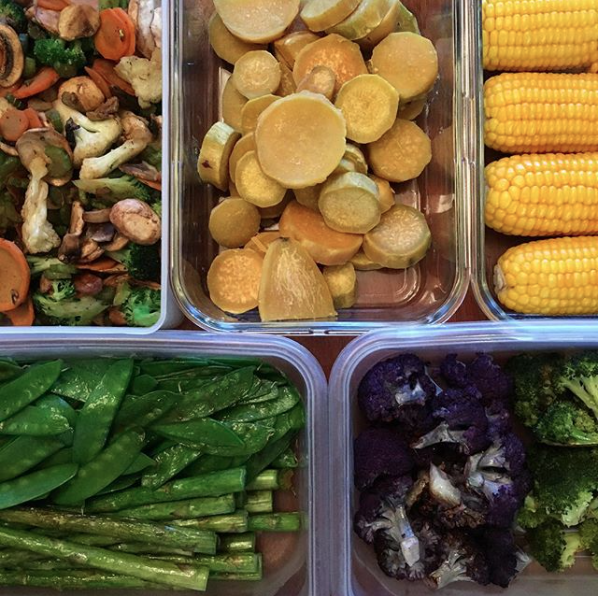 Plan a weekly menu
Again, think about who you are cooking for and take preferences into consideration.  I meal prep for the weekdays only, so I plan 3 different meals, because we don't mind repeating one or two of them during the week. In my house, if I made 4 different meals, at the end of the week I would have some leftover food and it would sometimes go to waste.  Also, cooking more than 3 different meals at a time would be overwhelming!
I usually look for 2 chicken recipes, and 1 beef recipe. Sometimes, I add 1 vegetarian meal as well. To complement, I include 1 grain which is usually just cooked brown rice or quinoa and 2-3 different vegetables to mix and match. For fresh vegetables and fruit, I cut up some carrots and papaya or pineapple, for example. That way I also have breakfast and snack items ready for grabs. Here are a few ideas to get you started.
If you stick to your menu when making the supermarket list, you will start to see the benefits in your wallet as well.
Find the time to Meal Prep
It takes me around 3 hours to complete my Meal Prep for the week, this includes clean up. Find a day that suits you best; for most people, Sunday morning is the best time, that way the food is ready before noon and they have the rest of the day to enjoy. It also means your food will be ready for your work week.  In my case, since I work from home, I can choose to make Monday morning my Meal Prep day.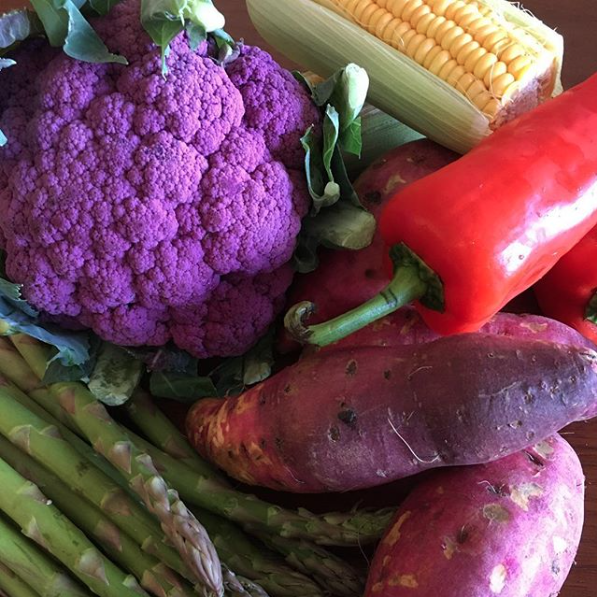 Relax!
Meal Prepping is supposed to help you out during a busy week. If spending 3 hours at a time cooking seems like an overwhelming task, cut your Meal Prep into two days instead of one. Maybe Sunday and Wednesday work best for you. Start by making 1 or 2 meals in advance, and once you get the hang of it, you can go for prepping for the whole week.
Choose your cooking methods
This is probably the best tip I can give you.  Make the most out of using different cooking methods at once to cut your meal prep work time. My best friend for meal prepping is my oven. I crank it up to 425ºF (the best temperature for roasting veggies) and while I season my chicken and/or meat I roast my vegetables: Broccoli takes 16 minutes, green beans take 10 minutes. Then, I usually put in cubed sweet potatoes, which take 30 minutes. I use two baking sheets that will fit together inside my oven to get as much as I can in there and before I know it, my vegetables are done.
At this point I'll lower my temperature to 400ºF.  Now, it's the chicken's turn to cook: I look for sheet pan recipes, or baked recipes and at this temperature chicken takes about 30 min to cook. While the chicken is cooking, I have heated my big pan or griddle on the stove top and now it's time to cook some beef: sometimes I make fajita or Asian style beef strips, or find a ground beef recipe.  While all of this is happening, my rice, quinoa or couscous has been cooking on the stove top.
I also recommend you use a slow cooker. You can make a delicious stew while you sleep! I cook mine on low at around 10pm the night before, and turn it off at 6am when I go into the kitchen the next morning. That's one meal down!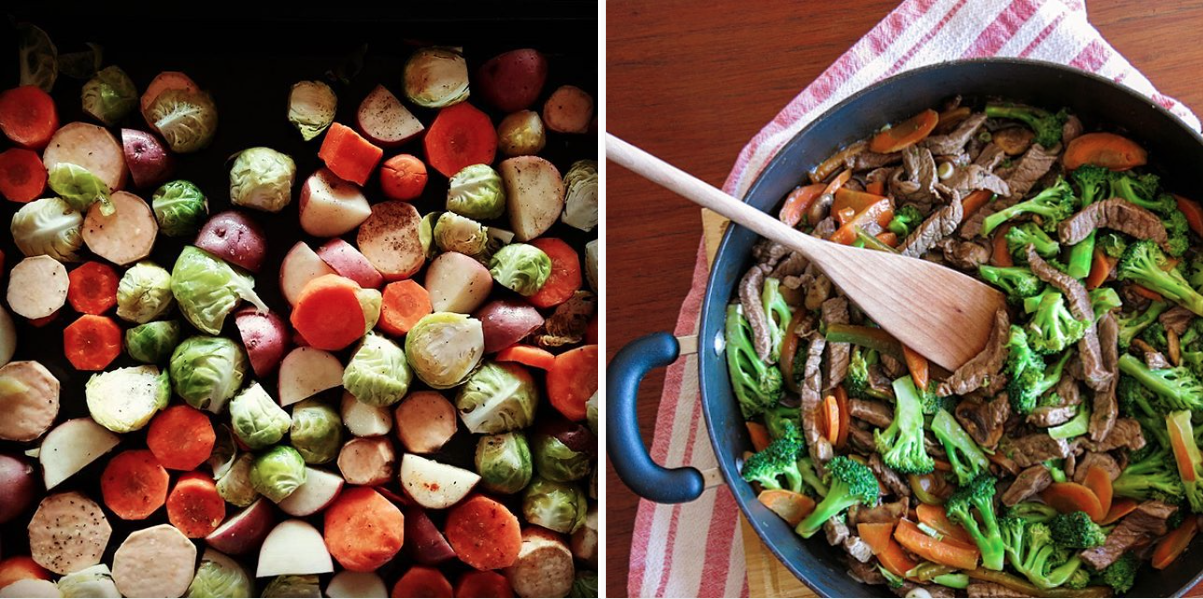 Have a few time-saving strategies
Sometimes your week is busier than usual, and you need to cut your Meal Prep time. If you're organized, you'll know when it's coming and you'll need a few strategies as a back up plan for weeks like those: buy a rotisserie chicken and just worry about making a salad to go with it.
As a second meal you can quickly make a bolognaise sauce to serve with whole wheat pasta. While that is cooking you can have the third meal baking in the oven. Maybe a frittata, or a quick baked chicken recipe.  You can save the meal with a good salad to go with anything.
One of my time-saving strategies that I use every week, is that I buy pre-cut vegetables that are ready to be consumed. I just toss them on the baking sheet and roast away. I also get canned items like beans or chickpeas.
Clean up
Meal prepping is great, but who's going to clean up the mess? In my case, me! So, I clean up as I go, which I recommend you do as well. If you use your oven like I do for most of your cooking, clean up should be only a few cooking sheets, tongs, spatula and a couple of cutting boards and a knife. While things are baking or before moving to the next meal you will prep, clean up! You'll thank yourself later.
Storage tips
Make sure your meals are completely cool before you store them in your refrigerator. Stack containers with vegetables together on one side, and meats on the other. That way it is easier to mix and match during the week.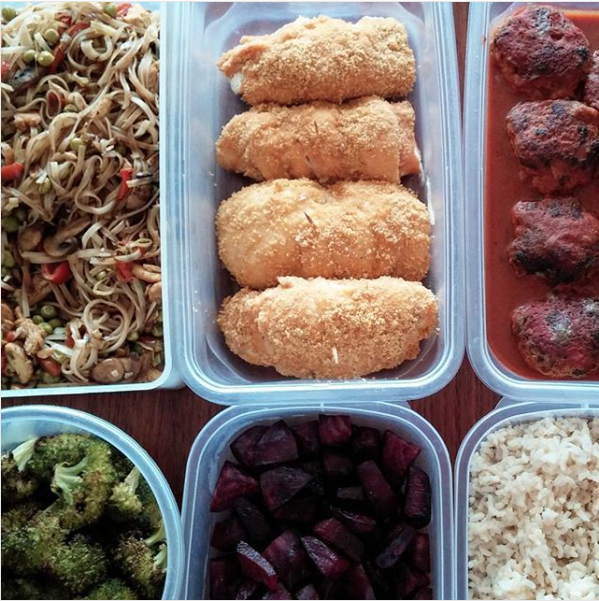 We hope you'll find these Meal Prep tips and strategies helpful. We'd love to hear from you and know if you gave Meal Prepping a try.
Helga
SaveSave
SaveSave
SaveSave
SaveSave
© 2018, The Foodies' Kitchen. All rights reserved | The Foodies' Kitchen.