About
The Foodies' kitchens are located in Guatemala (Central America); our little kitchens are the place where we experiment with ingredients and ideas on one of our favorite things … Food.
We believe that you do not need expensive or sophisticated ingredients to create a great dish, so what you will find in our blog are recipes that we have tested in our kitchens which we have collected from food magazines, TV shows, food websites, cookbooks, and even our own original concoctions. We have recipes that range from quick and easy for when you have 30 min. to get food on the table, to fantastic meals for that special dinner, healthy and not so healthy… – but delicious!- recipes. (We won't lie to you… there will be butter…a lot of butter)
We'll also be sharing our findings and picks for interesting and useful kitchen utensils, gadgets, ingredients, flavor combinations, techniques, articles and time saving tips!
About The Foodies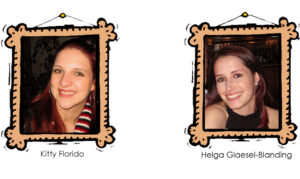 Helga Glaesel-Blanding
Happily Married to Mariano Blanding, and a happy Mom to 17 month old Kristen (now 4 year old). I punch in a couple of hours a day ,- they pulled me back full time – at the family business (import-exports), but my true passion has always been cooking. I still remember one of my first favorite books as a child, Pancakes for Breakfast by Tomy dePaola, my book is still around for me to give to my little girl, who I hope inherits my love of food.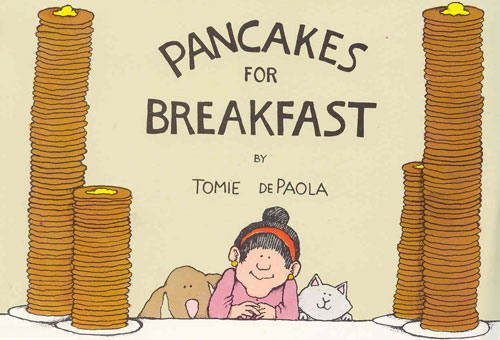 As I write this brief piece of information so all you foodies out there can get to know me a little better, I have realized that food really does bring people together. Some of my fondest memories with family and friends throughout childhood and my adult life involve food. Helping my grandmother in the kitchen, or bringing everyone to the dinner table for Christmas, or at my apartment because a friend (you know who you are) had a hankering for Jambalaya. What kind of food do I like? It's hard to choose… "Whatever the mood strikes" I always say. But if I HAD TO name a few it would have to be: spicy food, all things chocolate, and beef… ooooh, beef! I took a "Professional Cook" course that lasted for 1 year at the local Culinary School. It really helped me with techniques, and to understand and learn the basics. You can go anywhere from there. Another thing you should know is I am a Holiday enthusiast. I love Halloween, Christmas, Easter… all of them! Cooking up all the season's goodies for my family is one of my favorite things. Behold… My Kitchen: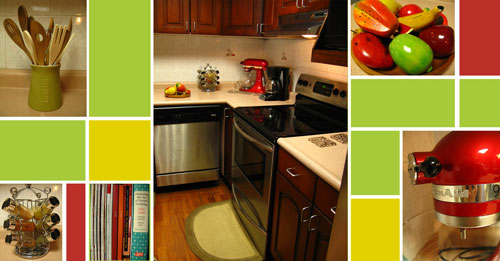 Kitty Florido
Based in Guatemala but loving to travel, I've been working as a full time freelance designer and photographer for over 10 years. I first got the love for cooking when I was a little girl, I still remember both of my grandmothers teaching me the basics in the kitchen: from the precise measurement that leads to baking success to how to make the perfect pie crust for the family quiche recipe. Later on I would spend my end of school year vacations learning the ins and outs on both of their kitchens, prepping meals for the family by their side and baking cookies to sell – having my dad as the investor that never quite got back his investment other than on cookies. Definitely, my favorite kind of meals to prepare are quick and easy dinners for two, and baking… I love baking! Both of my grandmothers excelled at this. Grandma Lucy could tell if you over mixed or under mixed the cake, or if the oven temp was not at what the recipe called for, just by taking a look at a slice of the cake. Grandma Flory makes the best pineapple and apple pies in history and I still have much to learn from her. Digging around my recipe books I found the original recipes I wrote under my grands' dictations from her original recipes. Here's my 7 or 8 year-old girl writing (and with notes from mom and grand's fixing mine):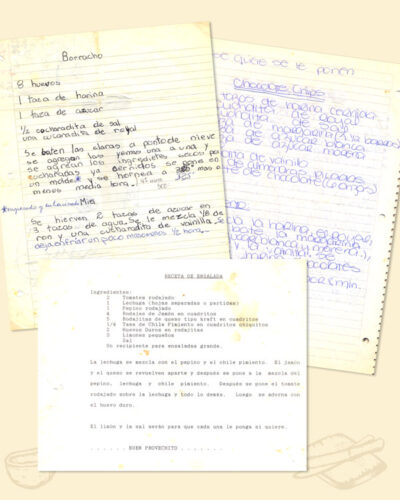 I still have pending my kitchen's picture… I will get to it! Soon

© 2010 – 2013, The Foodies' Kitchen. All rights reserved.