Oh, how we enjoy this time of year!  In Guatemala the weather starts to get colder, and yet we have blue skies.  Unlike other areas in the World that get to enjoy the fall foliage, this is probably the greenest part of the year for us since rainy season is on its way out.
Halloween is almost here, but months before it arrives we are already searching for the recipes and decoration ideas we will be trying out at home… although, we do have special motivation with my 4 year old daughter, Kristen.
This post is a roundup of our own recipes from the last couple of years, we wanted to have everything in one place  so hopefully you can find inspiration for your own spooky Halloween!
(click on the orange titles, this will take you to our Facebook albums which have direct links to all the recipes)
Here are a few ideas you can use:
Dip strawberries into melted chocolate and use Halloween sprinkles to decorate, do the same with marshmallows.
Don't forget we're also on Pinterest!
Have a safe and happy Halloween!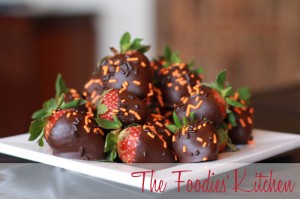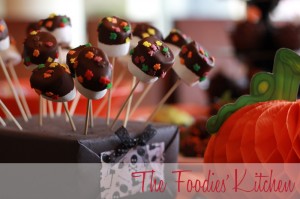 On 2010 we made
Stenciled Chocolate Cupcakes
Mummy Dogs
Ghoulish Chips
Macabre Drink
Halloween Sugar Cookies
Caramel Apples and
"Bat Wings"
Freebies!   Kitty designed beautiful cupcake toppers and wrappers!  Take a look!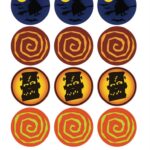 On 2011 we tried out
Milky Way Cupcakes
Meringue Ghosts
Meringue Bones
Spellbinding Cookies
Halloween Ghostly Pancakes
Black Halloween Chocolate Cupcakes
This year we tried out:
Candy Corn Cookies
Candy Apples
Halloween Cheddar Cheese Ball
Vampire Cookies
…and maybe we still have time for one more ;)