I can't believe my Tita (Grandma) is 91! She is a pie master and cook extraordinaire. And, she also helped me create my first cookie business when I was about 9 years old. Tita Flory had this adorable little store called Rainbow, which sold smock dresses, baptism baby gowns, first communion dresses and even hand sewn wedding gowns. I had the pleasure of being awesomely dressed with her creations since I was a baby. Here is a picture of a very excited Kitty with her Hello Kitty Piñata. Rocking a smock dress made by grandma.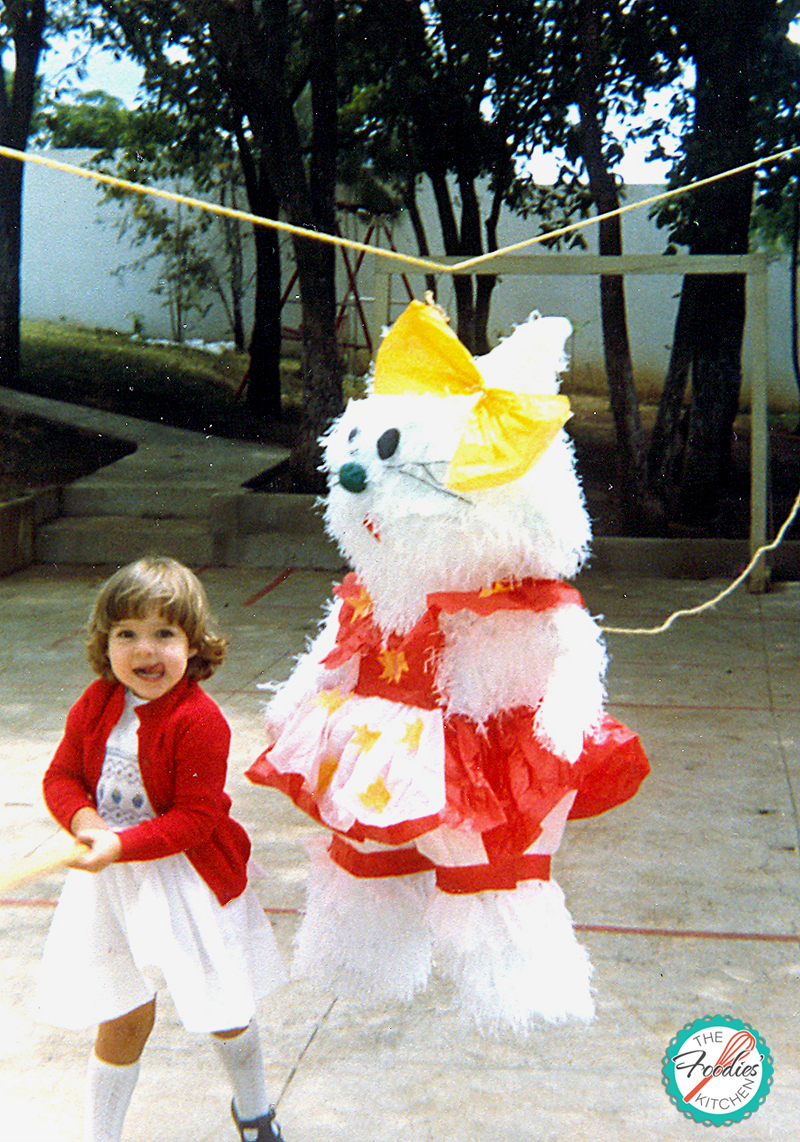 Back in 1989, she opened this little store in zone 10, and since I was enjoying my end of year vacations, I offered to help her out. Mostly sorting hangers, greeting customers and rearranging dresses. Since there was nothing near by to snack on, I thought that would be a great business idea to sell cookies door to door to the sale clerks around my grandma's store. She said she would help me if I could get the ingredients for her. Called my dad and  I presented my business idea: selling cookies at $1.25 for a bag of 10. I had no idea how the priced worked out with the costs, but dad agreed. Ingredients, check. Kitchen and assistance with the oven, check. Plastic bags (provided by grandma), check.
The next day I went out around the store offering cookie bags. It was a success. We sold out on the first day, and for the next few days I was a busy 9-year-old: I would work (more like hang out) at the store, went to sell the cookies at around 10AM,  and in the afternoons I'd bake. Later on, I'd pay back my dad (in cookies, of course) and ended up having some little money saved up for the holidays. Grandma Flory gave me my first entrepreneur adventure. Not that I did it perfectly (never paid the investors), but in my 9 year old mind, it was the most profitable business ever.
So, about a month ago, when I asked her what cake did she want for her birthday she said "A cake with orange and poppy seeds". That was all I needed to know, so I went on a search for the best cake I could find. A week before her birthday, I already had it narrowed down to 3 recipes. Then, that Monday, an email came from Corinne Regalos. My KitchenAid was here!
I ordered my KitchenAid mixer a few months back for my birthday in April, but since it was a special order (a beautiful Aqua Sky KitchenAid Artisan 5-Quart Stand Mixer), they had to bring it in for me, meaning I'd have to be very patient and wait 3 months for it to get here. The wait was all worth it, and what better way to break it in than with Tita's birthday cake. I went to get the mixer, but as I had a couple of meetings lined up, it wasn't until her birthday that I was able to use it.
I decided on using Martha Stewart's Orange Almond Cake with Swiss Meringue Buttercream – on her video, she says that this cake can easily be doubled for a wedding cake, so it gave me a very good idea on the flavor it would be. Since I didn't have orange zest, I replaced it with lime zest, made my own cake flour (see the note at the end of the recipe), and added poppy seeds after the birthday girl's request. Don't let the numerous steps scare you. It is an easy cake to make, and I was able to bake it at 10AM, decorated by 4PM and served at 6PM that same day (with a 45 minute drive in between).  I specially love the Swiss Meringue Buttercream as it doesn't crystalize, making it so much easier and faster to whip the recipe.  The cake was perfect. it was not overly sweet nor heavy, but still had the almond taste you get from wedding cakes. The cake was a success after seeing it fly off the dinning room table… and the most important thing: grandma loved it.
¡Felíz Cumpleaños Tita!
Kitty