This recipe has no sugar in it, but as your baby gets older and can include a little bit of sugar in his or her diet, you can add some to sweeten it. Below are some variations using this apple sauce as a base.
Helga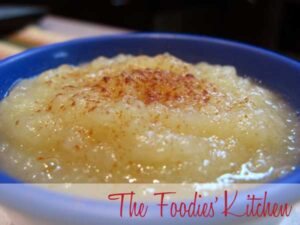 Homemade Apple Sauce
Yields: About 3-4 servings for Baby
Ingredients:
3 apples (Gala), peeled and quartered.
1 cinnamon stick
Powdered cinnamon
Procedure:
In a small pot, add enough water to cook the apples with the cinnamon stick.
Let them boil for about 20 min, or until they are soft.
Transfer apples to blender, add a little bit of the cooking juice and blend until smooth. You can strain it, if you want.
Sprinkle cinnamon on top (optional)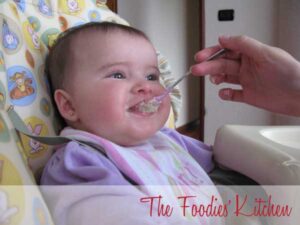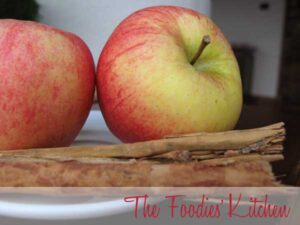 Variations:
Add ¼ teaspoon vanilla to flavor
Combine with Butternut Squash puree
Combine with Pear puree
Add a small bit of orange peel to the apples when cooking
Combine with mashed Bananas
I also used this apple sauce to make the transition to chicken. I added chicken breast puree and some squash to it.
SaveSaveSaveSaveSaveSaveSaveSaveSaveSaveSaveSaveSaveSave
© 2010 – 2017, The Foodies' Kitchen. All rights reserved | The Foodies' Kitchen.