The taste of oranges with powdered pepitoria… the sweet orange with the earthy flavor of pepitoria is a very rustic, local street food in Guatemala. It is also something all guatemalans have grown up with.  At home from time to time, we all eat oranges with pepitoria.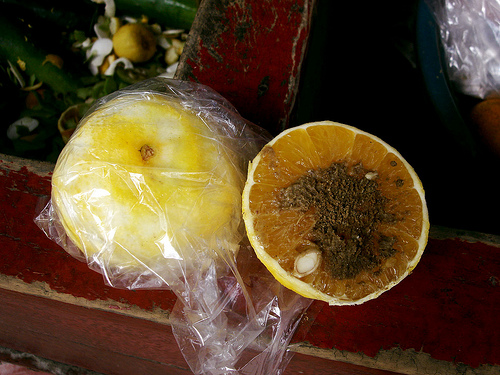 I wanted to capture the taste in a sauce to serve with browned chicken. I used the whole pepitoria, which are basically pumpkin seeds, and I used my mini chopper to process them into chunky little bits.  There is also a variation of powdered pepitoria, which should also work great with this recipe.  I'll have to try this again using the powdered pepitoria.  This is a very easy and fresh dish.  I made some sweet potato puree to go with it, and the combination was perfect.
Helga
Picture of the Orange with Pepitoria by José Wolf, found on Flickr
Chicken with Orange-Pepitoria Sauce
A The Foodies' Kitchen Original Recipe

Serves: 2
Ingredients:
2 chicken fillets
½ cup orange juice (for the marinade, from fresh oranges)
2 pieces of white onion, sliced
1 garlic clove
1 teaspoon cumin
2 springs of rosemary
¼ cup pepitoria, ground
Salt and pepper to taste
1/4 cup orange juice (extra for the sauce)
1 tablespoon sugar
1 tablespoon butter
1 orange, cut into chunks.
Whole pepitoria, to sprinkle on top
Procedure:
Season the chicken with salt and pepper.
In a bowl, mix the orange juice, the onion, garlic, rosemary springs, cumin. Let the chicken marinate for at least 30 min in this mixture.
In a hot pan, let the ground pepitoria brown for a about 4 minutes. Add the chicken breast (without the marinade) and let it brown, 4 minutes per side medium-high temperature. Remove chicken breasts from pan. Add the butter, let it melt. Then add the marinade, and an extra ¼ cup orange juice, the, sugar, orange chunks and adjust salt and pepper. Return chicken to the pan.
Cover and let cook for another 10 min.
Serving suggestions. With a green salad, or with sweet potato puree.
© 2010 – 2013, The Foodies' Kitchen. All rights reserved | The Foodies' Kitchen.