I like to make this lasagna from time to time, especially when the weather gets a little nippy.  It has only roasted vegetables and cheese in it.
The idea is to get a variety of vegetables to make every layer different.  I start off with an eggplant layer, then I make one with mushrooms and roasted peppers. When I make a large lasagna, I usually have room to make another layer with sliced tomatoes and basil; sometimes I put sliced  zucchinis in it.  Other great ingredients to use are asparagus or artichoke hearts.
Don't you hate a dry lasagna? To avoid this, I use two sauces: Italian tomato sauce (you can use your favorite canned brand) and béchamel sauce.   Use one for the bottom part of each layer,  add your ingredients and top with the other sauce.
I've included the recipe for Béchamel sauce for you, and it's a good one from Mario Batali.  If you will use the two sauces,  make only half a recipe so it yields 1 1/2 cups, which is enough for this medium lasagna.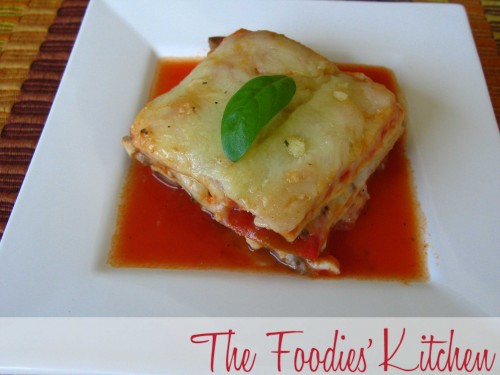 Roasted Vegetable Lasagna
 A The Foodies' Kitchen Original Recipe
Yields: 1 9″ Pyrex Lasagna.
Enough for about 6 people, or 4 very hungry ones.
Ingredients:
1 large eggplant
1 onion
1 red bell pepper
basil leaves, about 5 fresh leaves
1 cup sliced mushrooms
1 lb Mozzarella cheese, shredded
1 cup Parmesan cheese
1 ½ cups béchamel sauce
1 ½ cups Italian tomato sauce.
1 pack lasagna pasta
Dried oregano, for sprinkling.
For the Béchamel Sauce
Yields: 3 cups
Ingredients:
5 tablespoons butter
4 tablespoons all-purpose flour
4 cups milk
2 teaspoons salt
1/2 teaspoon freshly grated nutmeg
1 bay leaf
 Procedure:
(For the Béchamel Sauce)
In a medium saucepan, heat the butter over medium-low heat until melted.
Add the flour and stir until smooth. Over medium heat, cook until the mixture turns a light, golden sandy color, about 6 to 7 minutes.
Meanwhile, heat the milk in a separate pan until just about to boil.
Add the hot milk to the butter mixture 1 cup at a time, whisking continuously until very smooth.
Bring to a boil. Cook 10 minutes, stirring constantly, then remove from heat.
Season with salt and nutmeg, and set aside until ready to use.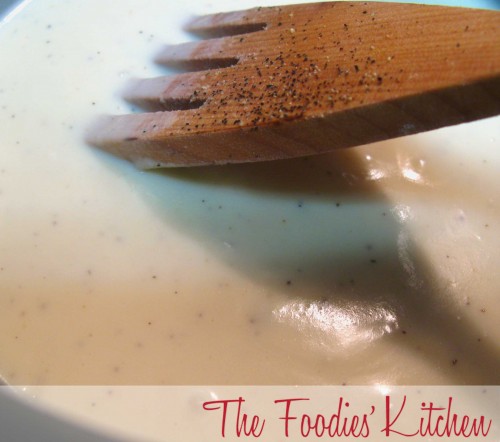 Procedure:
(For the Lasagna)
Preheat oven to 425.
Slice the eggplant, toss with olive oil salt and pepper and place in one layer on a cookie sheet.
Quarter the onion, and separate its layers.  Slice the bell pepper into thick strips. Drizzle olive oil on it and sprinkle with salt and pepper.
Let the vegetables roast for about 25 minutes.    Remove from oven.
Bring the temperature down to 375.
Meanwhile, cut your basil leaves chiffonade style.
In a  9″ pyrex, ladle some tomato sauce to cover the bottom.  Place one even layer of lasagna pasta. Cover with one even layer of eggplant and onion.  Sprinkle with salt, oregano and pepper.
Cover the eggplant layer with some béchamel sauce. Sprinkle evenly with mozzarella and parmesan
Add a second layer of lasagna pasta.  Cover with some tomato sauce.
Add a layer of sliced mushrooms, and then add the roasted bell pepper and the chiffonade basil.
Cover with remaining béchamel sauce.
Sprinkle mozzarella and parmesan.
Add the last layer of lasagna pasta and press down a little bit. Cover with tomato sauce, and finish off with a thick layer of mozzarella and parmesan.
Bake for 30 minutes.
When the time is up, let it sit for 30 minutes, outside the oven to let it sit. If you cut it right away, the filling will be too soupy and you will not be able to cut nice pieces.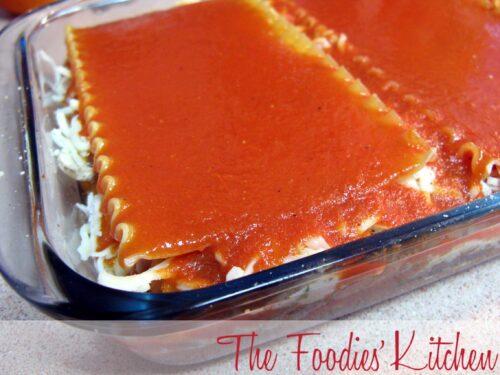 © 2010 – 2013, The Foodies' Kitchen. All rights reserved | The Foodies' Kitchen.