March 22, 2010. That was the day both Helga and I tried (and I emphasize on tried) to bake Homemade Soft Pretzels. Mine were nice as long as you ate it coming out of the oven. And Helga's were the same. After they cooled down, no matter how we would warm them up they would still  be hard as a rock when you tried to bite into them.
And yes, we have a picture. A combined picture of them both (scroll down all the way to the bottom of the post). The pictures of shame… But well embraced. After comparing notes and recipes, we knew we had to do further research before trying any recipe – and now we knew what to look on the recipes. Besides our experience cooking regularly as we did for our families, we had to look for more feedback from other foodies. After sharing these two pictures on our personal Facebook profiles, we started sharing other recipes we created – some of those made it to our first foodie posts.
Fast forward to March 2012. A few weeks ago we got together to bake and catch up on stuff. So, we decided to give it a try together. Now, we went to Alton Brown. The guy is a genius. Not everyone likes his personality, we know that… But recipe wise he is, well, wise. You can find his recipes on Food Network.
Now, a bit about this recipe. This looks like it will take so much time but it doesn't. The only bit you have to work a lot is when you blanch them (placing the unbaked pretzels in boiling water for 30 seconds each).  The Pretzels are delicious and they freeze well!
Kitty & Helga
Homemade Soft Pretzels
Recipe by Alton Brown
Ingredients:
1½ cups warm (110 to 115 degrees F) water
1 tablespoon sugar
2 teaspoons kosher salt
1 package active dry yeast
22 ounces all-purpose flour, approximately 4½ cups
2 ounces unsalted butter, melted
Vegetable oil, for pan
10 cups water
⅔ cup baking soda
1 large egg yolk beaten with 1 tablespoon water
Pretzel salt
Directions:
Combine the water, sugar and kosher salt in the bowl of a stand mixer and sprinkle the yeast on top. Allow to sit for 5 minutes or until the mixture begins to foam. Add the flour and butter and, using the dough hook attachment, mix on low speed until well combined. Change to medium speed and knead until the dough is smooth and pulls away from the side of the bowl, approximately 4 to 5 minutes. Remove the dough from the bowl, clean the bowl and then oil it well with vegetable oil. Return the dough to the bowl, cover with plastic wrap and sit in a warm place for approximately 50 to 55 minutes or until the dough has doubled in size.
Preheat the oven to 450 degrees F. Line 2 half-sheet pans with parchment paper and lightly brush with the vegetable oil. Set aside.
Bring the 10 cups of water and the baking soda to a rolling boil in an 8-quart saucepan or roasting pan.
In the meantime, turn the dough out onto a slightly oiled work surface and divide into 8 equal pieces. Roll out each piece of dough into a 24-inch rope. Make a U-shape with the rope, holding the ends of the rope, cross them over each other and press onto the bottom of the U in order to form the shape of a pretzel. Place onto the parchment-lined half sheet pan.
Place the pretzels into the boiling water, 1 by 1, for 30 seconds. Remove them from the water using a large flat spatula. Return to the half sheet pan, brush the top of each pretzel with the beaten egg yolk and water mixture and sprinkle with the pretzel salt. Bake until dark golden brown in color, approximately 12 to 14 minutes. Transfer to a cooling rack for at least 5 minutes before serving.
And for the old picture that started it all: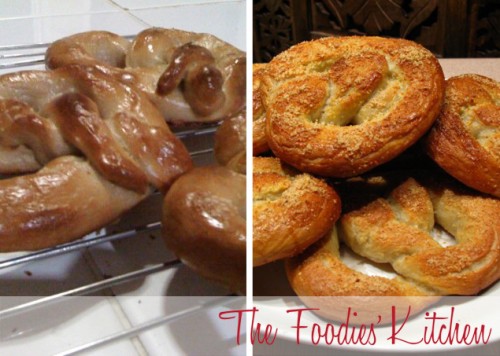 © 2012 – 2016, The Foodies' Kitchen. All rights reserved | The Foodies' Kitchen.